How to Eliminate Ants
If you need to know how to eliminate ants, you've come to the right place. Ants are some of the most annoying summertime pests, but they're also among the easiest to get rid of…if the right steps are taken. With a little detective work, some patience and a couple of TERRO® ant bait products, you'll be well on your way to enjoying an ant-free summer.
Bait, Wait and Eliminate Ants
The first step to successfully controlling and eliminating ants is to bait the worker ants – those lines of ants marching around inside your house as if they own the place. Grab some TERRO® Liquid Ant Baits and place them near the space where the ants are active. The ants are attracted to the sweet liquid in the bait and in short order will begin feasting on it. The bait, which is made from a natural ingredient, Borax, is deadly to ants.
Here's where the patience comes in. While the insecticide in TERRO® Liquid Ant Baits will ultimately kill the worker ants, it works slowly enough to allow time for the workers to unsuspectingly deliver the "bad news" to the queen and the rest of the colony. The end result is the elimination of the colony – and your ant problems.
The Great (Ant) Barrier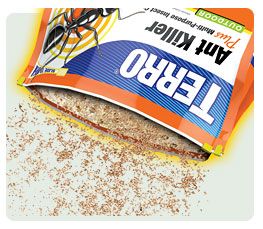 Since most ant infestations are linked to a colony headquartered outside your house, the second line of defense is setting up an outdoor barrier. Once a house has been baited inside for at least a week, begin applying TERRO® Outdoor Ant Killer Plus granules around the perimeter of your house. This product comes in a convenient shaker bag that allows you to create a three- to five-foot barrier around a typical house. Go ahead and have some fun applying these granules – throw on some headphones and just shake, rattle and roll – no boring spreader required!