Have You Met the Stink Bug?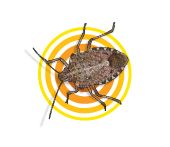 Chances are, you have! Stink bug invasions have been on a steady rise since they arrived in the U.S. in 1998. Experts are predicting record invasions this fall due to this year's early spring and record-breaking summer heat. However, homeowners can now protect themselves against stink bug home invasions with a new line of Stink Bug Killers from TERRO®.
Our Ready-to-use odorless Stink Bug Killer Spray and Stink Bug Killer Aerosol Spray quickly kill insects on contact. For long-term control, the ready-to-use spray is formulated to continue killing up to four months. Looking for effective boxelder bug control, Asian lady beetle control or cricket control? The odorless stink bug killers are also effective against other regional nuisance bugs, including box elder bugs, Asian lady beetles, carpenter ants and crickets. Both products may be used indoors and outdoors.