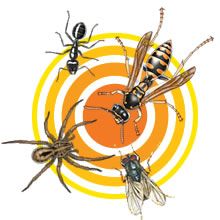 Bulk Insect Control
Insect Control Solutions in the Bulk Quantities You Need
If you are interested in buying TERRO® products in larger quantities, we have the solution (and savings) you're looking for!
Battling Ants?
No problem – we have liquid ant bait, ant killer sprays and granular solutions, all available to buy in bulk.
Constantly Swatting Fruit Flies?
Look no further – enjoy savings when you buy our apple-shaped fruit fly traps in large quantities.
Sick of Spiders and Other Crawling Insects?
Get rid of the crawling insects or spiders bugging you with our aerosol sprays, ready-to-use sprays, granules and sticky traps, all available in bulk quantities.
Tired of Dodging Flying Insects?
Whether you're battling stink bugs, wasps, hornets or pantry moths, we have a solution in the form of sprays and traps! What's more: the more you buy, the more you save with our bulk discounts.
If your insect problems are indoors or outdoors, large or small, TERRO® has solutions that fit them all!