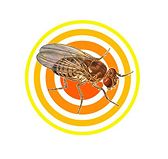 Fruit Fly Control
Fruit flies are healthy eaters. Unfortunately, their low-fat diet may consist of the wholesome goodies found in your home. Fruit flies have no qualms about raiding your trash for rotting fruits and vegetables. TERRO® offers an alternative to homemade fruit fly traps that are effective solutions to help you get rid of these bothersome household pests in a hurry.
Use Our Fruit Fly Traps to Eliminate Pests Quickly
The TERRO® Fruit Fly Trap contains a non-toxic liquid fruit fly bait that lures the pests to their demise and lasts up to 30 days. Once the fruit flies venture inside this attractive apple-shaped trap, they quickly discover there is no way out. Simply place this reliable fruit fly catcher near a fruit bowl, trash receptacle or other infested area, pull the lid to add the lure, and begin to trap fruit flies immediately!
Where to Buy Fruit Fly Traps
We make it easy to get the fruit fly control solution you need for your home. Purchase fruit fly traps today, now available in bulk quantities to save you more.
4 fruit fly traps

12 fruit fly traps