NEWS RELEASE *High-res images and/or product sample available upon request
Eliminate Fruit Flies with Redesigned, Ready-to-Use Traps
Fast-Acting TERRO® Fruit Fly Traps Now Provide up to 90 Days of Protection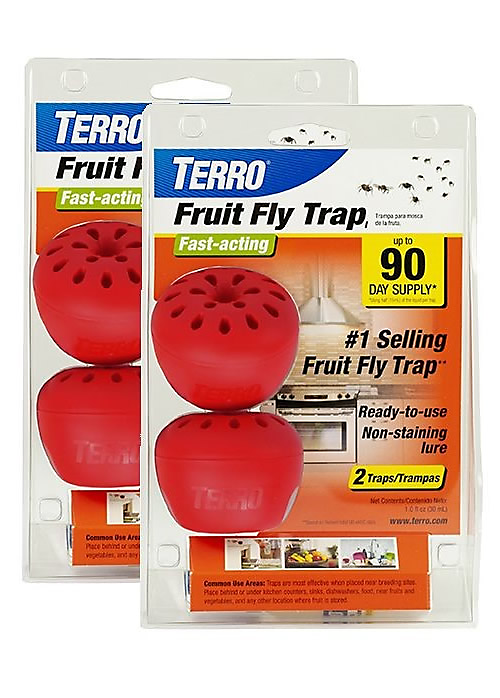 LITITZ, PA—June 11, 2019—The #1 selling Fruit Fly Trap in America (based on Nielsen total US xAOC data) just got better. The top-selling TERRO Fruit Fly Trap – 2 Pack now features a 90 day lure supply, as well as a revamped trap design. The clear, non-staining lure attracts and draws adult fruit flies into the trap through funnel-shaped holes. Once inside, they cannot escape to continue breeding. The attractively redesigned apple-shaped trap features a built-in window that allows homeowners to easily monitor the capture of nuisance insects.
"Offering a 90 day lure supply was in response to what our customers were asking for," says Ethan Grodzinski, category development associate at TERRO®. "Each trap lasts up to 45 days, providing 90 days of protection from annoying fruit flies."
How it Works
Moist organic debris is the only thing fruit flies need to breed and thrive. Left unchecked, fruit flies multiply rapidly. The TERRO® Fruit Fly Trap halts their life cycle by drawing adult fruit flies to the trap using a specially formulated food-based liquid lure. Flies enter the trap where they are powerless to escape and continue breeding.
"Getting rid of fruit flies has never been easier," says Grodzinski. "Within days of placing the TERRO® Fruit Fly Trap near a breeding source you should see a significant decrease in the number of flies swarming around your home."
Where to Place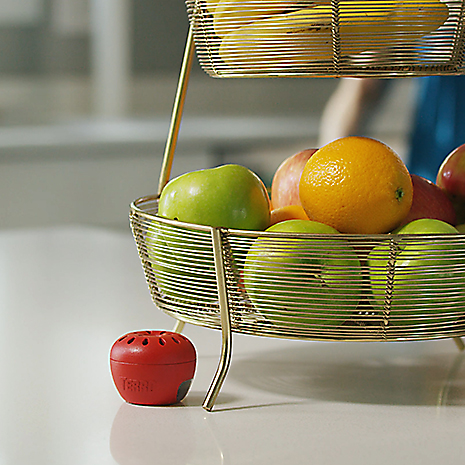 Successfully eliminating a fruit fly infestation requires locating their breeding area and placing the TERRO® Fruit Fly Trap nearby. Fruit flies are commonly found swarming around fruit bowls on kitchen counters, near trash cans and around sinks. Place the trap upright on solid surfaces in areas where fruit flies have been seen. Discard the trap when full of flies or after 45 days of use.
Where to Buy
Each package of TERRO® Fruit Fly Trap – 2 Pack contains two traps and a 90 day lure supply. The product may be purchased online at www.terro.com and at leading retailers nationwide.
About TERRO®
TERRO® is an industry leader in ant and pest control and has been a trusted brand since 1915. Based in Lititz, PA, the company offers proven ant and pest control products including liquid ant baits, aerosol sprays, perimeter granules, glue traps and ant dust products. TERRO® products are widely distributed at all leading hardware, home center, mass merchant, food and drug, farm and fleet, and independent garden center retailers nationwide. For more information on TERRO® products, call 1-844-837-7644 or visit terro.com
Media Contact:
Carolyn Schinsky
314-308-1682
carolyn.schinsky@gmail.com