NEWS RELEASE *High-res images and/or product sample available upon request
Get Rid of Insects with TERRO Home Pest Control
New Line of Ready-to-Use Sprays Effective Against more than 65 different Insects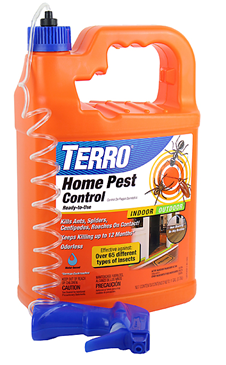 LANCASTER, PA—July 6, 2021—It is now possible to protect your entire home with just one DIY pest control product. TERRO, an industry leader in DIY pest control, announces the launch of Home Pest Control , a ready-to-use spray that is effective against more than 65 different types of insects.
Designed for both indoor and outdoor use, TERRO Home Pest Control kills ants, spiders, centipedes, roaches and other unwanted insects on contact. The odorless, long-lasting formula also provides residual killing power and will continue to kill German cockroaches for up to 12 months and house flies for up to 150 days after application
"Beyond the convenience of having one single product that effectively wipes out a magnitude of insects on contact, what I really like about this product is the long-term protection it provides against German cockroaches," says Stew Clark, Director of Research at TERRO. "An impregnated female will develop an ootheca, an egg case containing up to 48 eggs. Prior to hatching, the female will slide the ootheca into a crevice where the cockroach nymphs can safely emerge. So, it is reassuring to know that if you have applied Home Pest Control around your home, it will still be working when the eggs hatch weeks later."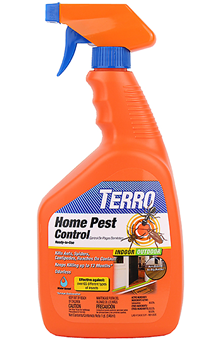 TERRO Home Pest Control is a water-based spray that is odorless, non-staining, and leaves behind no oily residue so it can be used both indoors and outdoors. The pre-filled and ready-to-use spray is available in a one gallon or 32-ounce spray bottle
Where to Use
To use indoors, apply it as a crack-and-crevice treatment in areas where pest insects hide, including around sinks, behind baseboards, under appliances, and around windows and doors.
To use outdoors, hold the bottle 12 to 18 inches from the surface and spray infested areas, making sure to lightly moisten the surface. For ants, apply the spray directly to ant trails and hills, as well as nests hidden under brickwork, concrete, and steps.
"TERRO Home Pest Control is a product you can trust to get rid of unwanted insects trying to invade your home," says Clark. "It kills on contact and delivers long-lasting residual protection, making it the perfect bug control weapon to always have on hand."
Where to Use
TERRO Home Pest Control is available for purchase online at www.terro.com and at leading retailers nationwide.
About TERRO®
TERRO® is an industry leader in ant and pest control and has been a trusted brand since 1915. Based in Lancaster, PA, the company offers proven ant and pest control products including liquid ant baits, aerosol sprays, perimeter granules, glue traps and ant dust products. TERRO® products are widely distributed at all leading hardware, home center, mass merchant, food and drug, farm and fleet, and independent garden center retailers nationwide. For more information on TERRO® products, call 1-844-837-7644 or visit terro.com
Media Contact:
Carolyn Schinsky
314-308-1682
carolyn@ryan-pr.com