NEWS RELEASE *High-res images and/or product sample available upon request
TERRO® Introduces Refillable Spider & Insect Trap Plus Lure
Patented, Food-based Lure Helps Attract and Catch Crawling Insects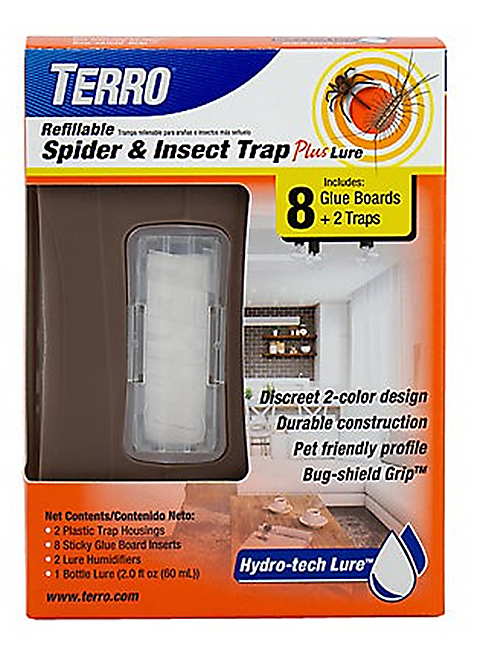 LITITZ, PA—July 6, 2020—Homeowners looking to get rid of spiders and other crawling insects lurking in their homes can do so easily and swiftly with a new, easy-to-use product from TERRO®, an industry leader in DIY Pest Control. TERRO® Refillable Spider & Insect Trap Plus Lure attracts and traps spiders and other creepy crawlers throughout the home. A food-based Hydro-tech Lure™ increases insect attraction to the sticky spider glue board.
Spider Control is a year-round problem for most homeowners," says Stew Clark, Director of Research & Development at TERRO®. "The new TERRO® Spider & Insect Trap contains a proprietary Hydro-tech Lure™ that works to increase your catch rate by more than twice that of a regular sticky trap. This new technology is welcome news for anyone waging war on spiders and other unwelcome insects."
Double the Protection
Moisture is a common insect attractant. When the Hydro-tech Lure™ is placed into the included TERRO® Spider & Insect Trap lure humidifier, it provides the trap with moisture. The food-based lure will last up to 30 days per application and increases catch rate by 2.5 times of a standard insect glue board.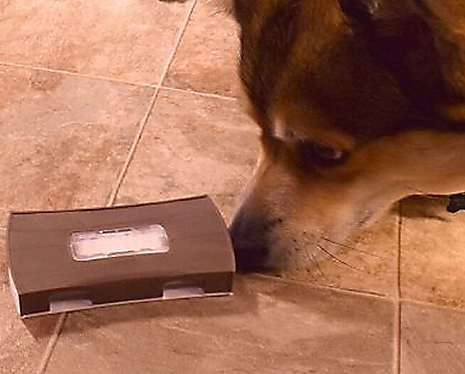 Thoughtful Design
The Refillable Spider & Insect Trap Plus Lure is meticulously designed to meet the needs of homeowners. Durable construction, a dual color trap design, and a dual sided Bug-shield Grip™ provide discreetness and versatility in placement. Insects easily find their way into the trap via six separate entry points and get stuck to the glue board.
The new traps are refillable for less waste. When additional glue board inserts are needed simply refill with additional Terro® Spider and Insect Glue Boards for long-lasting use.
A pet-friendly, low-profile design makes it difficult for curious paws and noses to fit inside and reach the glue board. The durable plastic housing also works to prevent pets from accessing the sticky surface.
"Let's face it. Picking up dead bugs is not anyone's idea of a good time," says Clark. "The unique Bug-shield Grip™ on the trap prevents contact with trapped insects. Use the finger grips to easily and safely move the trap from one location to another, to check on the catch, and to dispose or fill the trap with glue boards."
Where to Use
Clark recommends placing TERRO® Refillable Spider & Insect Traps against baseboards, under furniture, below sinks, in bedrooms, kitchens, basements, and garages. "The traps will catch spiders as they roam in search of insects. Continuous, long-term use of the traps will reduce difficult insect infestations," notes Clark.
Each package of TERRO® Refillable Spider & Insect Traps contains a four-month supply of insect control protection, including two traps, eight glue boards, 2 lure humidifiers and one bottle of Hydro-tech Lure™.
For best results, once the glue board is full, hold the trap by the Bug-Shield Grip and remove the humidifier. Next, remove the glue board by shaking the trap downward over a trashcan to release the board, effortlessly avoiding contact with dead insects.
The durable traps are reusable. When it is time to purchase additional glue board inserts for the refillable traps, simply purchase Terro® Spider and Insect Glue Boards.
About TERRO®
TERRO® is an industry leader in ant and pest control and has been a trusted brand since 1915. Based in Lititz, PA, the company offers proven ant and pest control products including liquid ant baits, aerosol sprays, perimeter granules, glue traps and ant dust products. TERRO® products are widely distributed at all leading hardware, home center, mass merchant, food and drug, farm and fleet, and independent garden center retailers nationwide. For more information on TERRO® products, call 1-844-837-7644 or visit terro.com
Media Contact:
Carolyn Schinsky
314-308-1682
carolyn.schinsky@gmail.com