FOR IMMEDIATE RELEASE
*High-res images and/or product sample available upon request
Media Contact
Carolyn Schinsky / 314- 822-9784 / carolyn@ryan-pr.com
TERRO® Ant & Roach Baits Offer Two Baits in One Station
New 2-in-1 Bait Solution Eliminates Need for Multiple Pest Control Products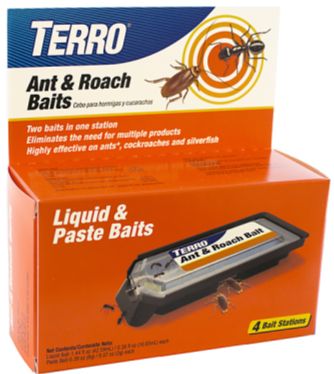 LITITZ, PA—Feb. 19, 2018—TERRO®, a trusted brand in ant and pest control for more than 100 years, has added TERRO® Ant & Roach Baits to its extensive line of DIY insect control products. The new bait solution features two insect baits in one convenient station. The top section of the bait station contains a sweet liquid bait to target sweet-eating ants, while the lower section contains a protein-based paste bait to attract and kill cockroaches, silverfish and some non-sweet-eating ants.
"We have a deep-rooted commitment to finding new, simple and effective ways to help meet our customers' pest control needs," says Malory Spisak, category development manager at TERRO®. "The new Ant & Roach Baits help satisfy that commitment by housing two effective insect baits in one easy-to-use bait station."
How Liquid Ant Baits Work
Adult worker ants prefer liquid food to solid food because they are able to transport and digest liquids more easily than solids. Solid foods require additional processing by the larvae. TERRO® liquid ant baits take advantage of this unique physiology by making it more efficient for foraging ants to share the liquid bait with the rest of the colony.
As ants forage for food, they are quickly attracted to the sweet liquid ant bait stored in the bait station so homeowners should expect to see an initial surge in ants when using this product.
After locating the bait, ants enter the pre-filled bait station to feed on the bait. The liquid bait is specially formulated to allow ants to consume the product and survive long enough to carry the bait back to the nest and deliver a lethal dose to the rest of the colony. This slow kill is necessary to kill the ants you see and the ants you don't.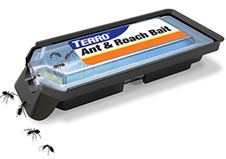 How Roach Paste Baits Work
Similar to liquid ant bait, the protein-based paste bait housed in the lower portion of the bait station is formulated to attract roaches and silverfish. Pests enter the station through one of three entry points to eat a lethal dose of the bait.
The active ingredient in the bait works slowly enough to allow roaches to return to the nest, where they transfer the bait through consumption. Methods of transferring bait include regurgitation, feeding on the feces of other roaches and eating the remains of dead roaches. As the bait is shared, pest populations will begin to diminish.
Bait Placement
TERRO® Ant & Roach Baits are best used indoors near ant trails and locations where roaches and other insects have been observed. It is also recommended to place bait stations in areas where insects have access to your home, including utility conduits, water pipes, door cracks, open windows and damaged window screens.
TERRO® Ant & Roach Baits feature a stay-fresh tab that keeps the liquid bait fresh until opened. When ready to use, simply break off the tab and put the bait station in place. Once in use, monitor the station regularly and replace when bait is depleted or every three months.
"When using Ant & Roach Baits be sure pests have limited access to other sources of food like crumbs, sugar and grease spills," advises Spisak. "Also avoid placing the bait in areas that have recently been sprayed with an insecticide, as this may cause pests to avoid the bait stations."
Where to Buy
Each box of TERRO® Ant & Roach Baits contains 4 ready-too –use bait stations. The product may be purchased online at http://www.terro.com/store and at leading retailers nationwide.
About TERRO®
TERRO® is an industry leader in ant and pest control and has been a trusted brand since 1915. Based in Lititz, PA, the company offers proven ant and pest control products including liquid ant baits, aerosol sprays, perimeter granules, glue traps and ant dust products. TERRO® products are widely distributed at all leading hardware, home center, mass merchant, food and drug, farm and fleet, and independent garden center retailers nationwide. For more information on TERRO® products, call 1-800-800-1819 or visit terro.com.