TERRO® Fire Ant Killer - 2 lb Canister
TERRO® Fire Ant Killer - 2 lb Canister
1
2
5
1
Earn 300 rewards points on your purchase! Learn More
Apply directly on mounds to kill fire ants on contact
Waterproof formula continues killing for up to 8 months
Odor-free granules are for outdoor use
Ready-to-use, no need to water in
Convenient and easy-to-use 2 lb shaker can
Includes 1 Pack
Cannot Ship to:
AK, CT, DE, DC, HI, IA, KS, ME, MD, MA, MI, MN, MO, MT, NH, NJ, NY, ND, OH, RI, SD, VT, WA, WV, WI, PR
TERRO® Fire Ant Killer
Stop fire ants in their tracks with TERRO® Fire Ant Killer. Apply this ready-to-use formula directly to the fire ant mounds (no need to water in) to begin targeting them immediately with residual killing power lasting up to 8 months. These waterproof and odor-free granules are a must-have for fire ant invasions in your yard. Any fire ant that crawls through the Fire Ant Killer, will be killed on contact.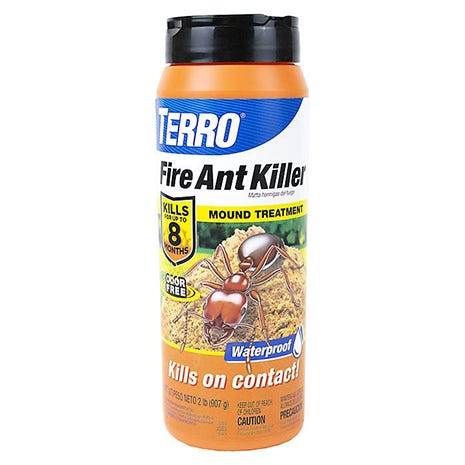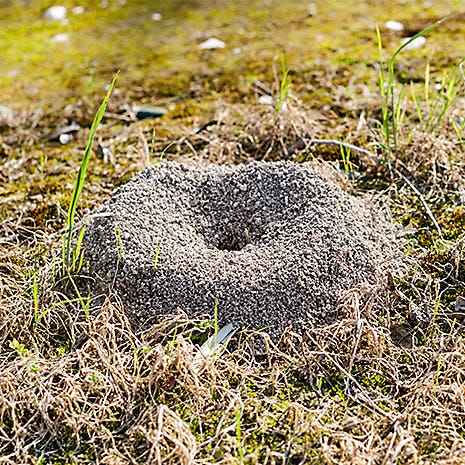 How to Apply
TERRO® Fire Ant Killer comes in an easy-to-use shaker canister. Simply open the cap on the scatter or widespread option depending on your needs. Sprinkle a tablespoon or so of the granules directly over top of each fire ant mound. For best results, apply the Fire Ant Killer in temperatures between 65 and 80 degrees. Remember, no watering in is necessary! Be sure to not disturb the ant mound in any other way to prevent them from migrating away from their mounds before they make contact with the granules.
Allow 3 to 4 days for maximum control. If ants are still active after that timeframe, repeat the application.
Long-Lasting Protection
TERRO® Fire Ant Killer is made with a waterproof formula that will last up to 8 months. This gives you long-lasting protection against fire ants even in the rain! Because this product is odor-free, you can use it outside the home where needed, without the worry of an unpleasant smell.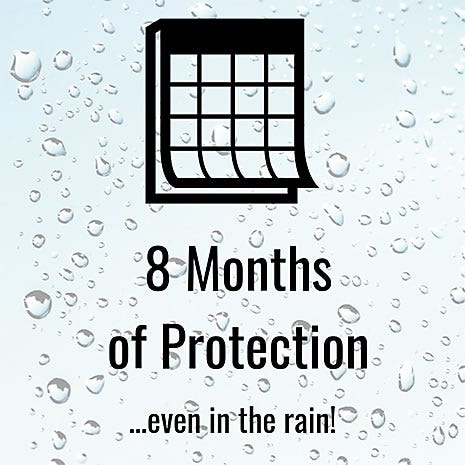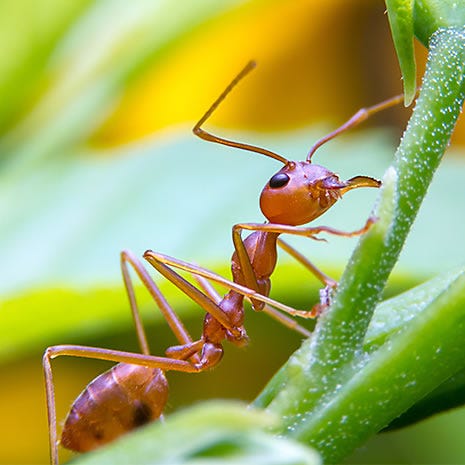 Put A Stop To Fire Ants
Fire ants are seen as a nuisance, rightfully so. These ants are aggressive and sting their prey with a generous dose of venom. This venom leads to burning, itching, and discomfort. Some fire ants can build massive colonies as large as 500,000 worker ants per colony. Luckily, when you have fire ants invading your property, you can turn to TERRO® Fire Ant Killer!
TERRO® Fire Ant Killer Product Details
Do you want to know more helpful details about the TERRO® Fire Ant Killer? Take a closer look at the in-depth specifications for this product.
TERRO® Fire Ant Killer
Model #
T702
Includes
2 lb shaker canister of Fire Ant Killer
Eliminates
Fire Ants

WARNING: This product can expose you to chemicals including crystalline silica, which is known to the State of California to cause birth defects or other reproductive harm. For more information go to www.P65Warnings.ca.govwww.P65Warnings.ca.gov.
TERRO® Fire Ant Killer
Model Number
T702
Weight
2.2 lb
Dimensions
3.3 × 3.3 × 9 in
Includes
2 lb shaker canister of Fire Ant Killer