TERRO® Multi-Surface Roach Baits
TERRO® Multi-Surface Roach Baits
7
4.9
5
1
Earn 220 rewards points on your purchase! Learn More
Bait station attracts and kills roaches for complete control
See-thru window lets you know when to replace bait station
Adhesive strips keep bait in place on walls or under cabinets
Discreet design makes it easy to hide among your décor
Includes 6 roach bait stations
Terro® Multi-Surface Roach Baits
Do you have a roach problem, but just can't seem to find the perfect spot to place your bait? With TERRO® Multi-Surface Roach Baits, you can place them almost anywhere! The unique, multi-surface application allows you to lay them flat or adhere them to surfaces around your home. Simply use the included adhesive strips to place the ready-to-use bait stations on walls, under cabinets and a variety of other locations where they won't be in the way. Use the see-thru window to monitor bait levels so you know when it's time to put out a new one!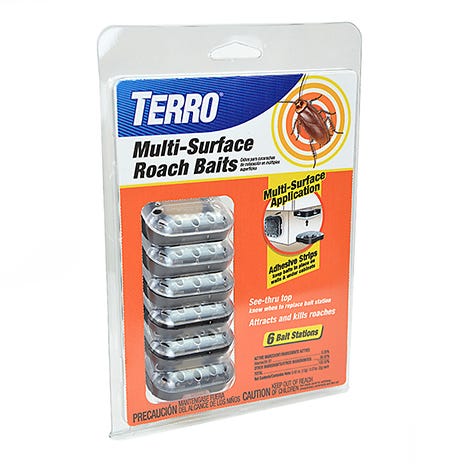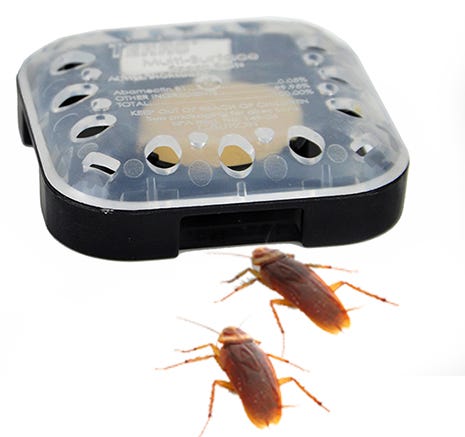 Attracts and Kills Roaches
The paste found inside the bait station is made up of a protein-based bait that attracts and kills roaches. This unique bait formula is designed to attract the target pest, so you may initially see more insects as they discover the bait station. As the active ingredient takes its toll, populations will decrease. In addition, there are four entry points to increase the effectiveness.
Where to Place Multi-Surface Roach Baits
Place TERRO® Multi-Surface Roach Baits near locations where roaches are numerous. It's also a good idea to stop roaches in their tracks by placing bait stations anywhere insects may try to enter your home. For versatile, placement, the multi-surface bait station allows you to adhere the product to a variety of surfaces, including on walls, kick plates, behind appliances, and near garbage cans.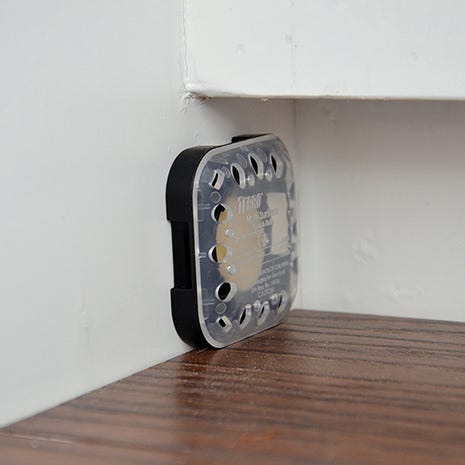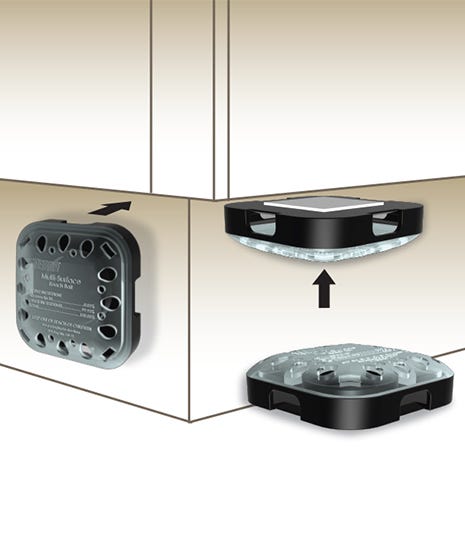 How to Use Multi-Surface Roach Baits
TERRO® Multi-Surface Roach Baits are very easy to use. Before placing the bait stations, be sure to remove other sources of food, such as crumbs, sugar and grease spots to prevent attracting them elsewhere.
For adhesive applications, apply removable adhesive strip to bottom of bait station. Remove remaining printed strip paper backing. For non-adhesive applications, skip to step 2.
Apply/place bait stations near where roaches are present. For adhesive applications, press and hold bait station firmly against surface for 10 seconds to ensure proper adhesion.
Place additional bait stations anywhere roaches are present. Heavily infested areas may require additional bait stations.
Monitor placements regularly, but do not interfere with the pests or bait stations. Replace when bait is depleted and continue until roaches are controlled.
Terro® Multi-Surface Roach Bait Product Details
Interested in learning more about TERRO® Multi-Surface Roach Baits? Take a closer look at the in-depth specifications for this product.
Terro® Multi-Surface Roach Bait
Model #
T500
Includes
6 roach bait stations plus adhesive strips
Active Ingredient
Abamectin B1 (0.05%)
Eliminates
Roaches

WARNING: This product can expose you to chemicals including abamectin, which is known to the State of California to cause birth defects or other reproductive harm. For more information go to www.P65Warnings.ca.govwww.P65Warnings.ca.gov.
TERRO® Multi-Surface Roach Baits
Model Number
T500
Weight
.020 lb
Dimensions
1.9 x 1.9 x .50 in
Includes
6 roach bait stations
Customer Reviews
29%
of customers
recommend this product
Does this product contain peanut derivatives?
Question by: Brooklin on May 7, 2023, 6:34 PM
This product does not contain any peanut derivatives.
Answer by: Rachel Williams (Admin) on May 11, 2023, 11:06 AM
Safe to use around children?
Question by: Donna spata on Sep 7, 2021, 11:44 PM
We do not recommend placing bait stations in areas accessible by children and pets.
Answer by: Lauren Steiner on Sep 29, 2021, 3:25 PM