TERRO® Perimeter Ant Bait Plus - All Questions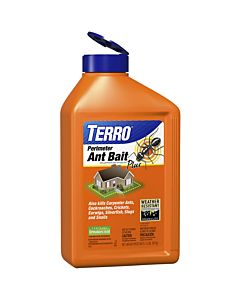 TERRO® Perimeter Ant Bait Plus
What are the ingredients in the fire ant plus?
Question by: Sandra Meeker on Sep 15, 2021, 5:31 PM
The Fire Ant Bait has the active ingredient, spinosad. All other ingredients are proprietary.
Answer by: Rachel Faust on Sep 29, 2021, 2:35 PM
What is the difference between Terro Perimeter Ant Bait and Terro Multi-Purpose Insect Bait. I am looking to destroy carpenter ant colony. If you have any suggestions I would appreciate them. Carpenter ants are in and around a tree in my yard and are going up chimney and entering thru openings in mortar. Have not seen inside house.
Thanks
Question by: frank shepard on Nov 10, 2021, 4:04 PM
These products are functionally the same, they have the same active ingredient. Either would be a good option to eliminate a carpenter ant colony.
Answer by: Kathryn Tator on Nov 11, 2021, 7:09 AM