TERRO® Refillable Flea Trap
TERRO® Refillable Flea Trap
29
3.9
5
1
Earn 420 rewards points on your purchase! Learn More
Detects and controls indoor flea problems
Uses heat and light to lure fleas from 30 feet away
SuperGrabber glue holds fleas and other insects fast for monitoring and removal
Trap canopy obscures glue board from view
Includes 1 Pack (1 flea trap and 2 glue board inserts; refills available)
Best Used For





TERRO® Flea Trap
Detect, monitor, and control flea infestations inside your home with the TERRO® Flea Trap. This trap, which features sticky glue boards, lures fleas out of upholstery and carpeting from up to 30 ft away. The unique design helps you to eliminate your flea problem without spraying chemicals or dousing your pets. The trap uses light and heat to simulate a warm-blooded host. When the fleas jump at their intended meal, they instead land on the SuperGrabber glue discs and get stuck. The trap's small footprint also allows you to place it almost anywhere.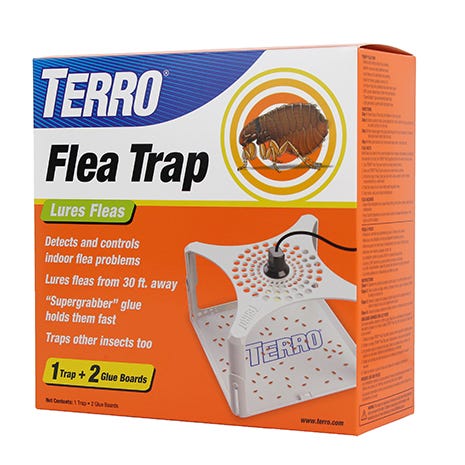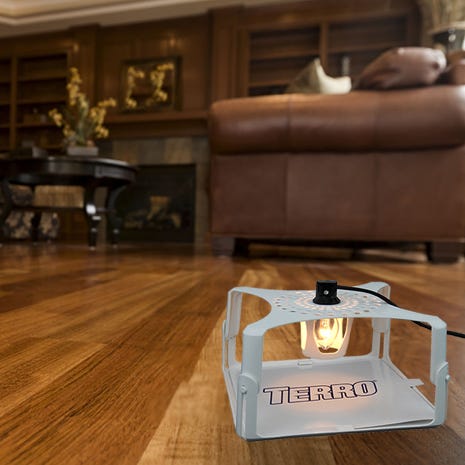 Attracts Fleas From Up To 30 Feet Away
When plugged in, the TERRO® Flea Trap utilizes light and heat to draw fleas out of their hiding spaces. These attractants can entice fleas from up to 30 feet away when no other attractants are nearby. If you're a pet owner, you can use the TERRO® Flea Trap year-round as an early detection device, luring these parasites out of upholstery, carpeting, and cracks.
How it Works
Why are fleas so eager to investigate the TERRO® Flea Trap? Adult fleas sense heat, which to them indicates a warm-blooded animal that they typically use as a host. By simulating the warmth of the host, the flea trap attracts fleas from where they live and hide. When the fleas jump toward the heat in an attempt to feast on their "host," they instead find themselves stuck to the SuperGrabber glue board, unable to escape. The glue board will also capture other insects that attempt to cross its path.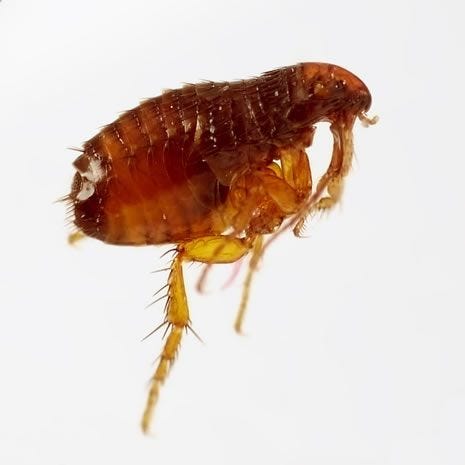 Easy to Use
For your convenience, the TERRO® Flea Trap is easy to use. To set up, simply extend the canopy until it clicks into place, insert the glue board and remove the release paper, and then turn on the light. Place the trap on the floor in an area where fleas are common – typically where your pet spends a lot of time. Put in a fresh glue board every two to four weeks. This trap includes two glue board inserts, with additional refills sold separately.
Canopy Design Protects Glue Boards
In addition to the trap's effective flea-catching abilities, it also features convenient design elements. The attached canopy helps to partially obscure the glue board from view, so you don't have to look at the insects. It also acts as a protective cover for the glue board to keep objects, people, and pets from accidentally coming in contact with the sticky surface.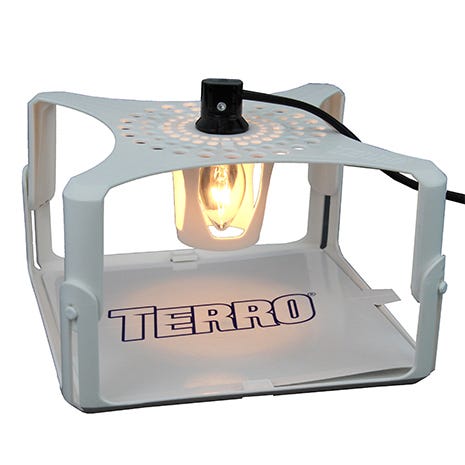 TERRO® Flea Trap Product Details
Interested in learning more about TERRO® Flea Trap? Take a closer look at the in-depth specifications for this product.
TERRO® Flea Trap
Model #
T230
Includes
Effective Against
Fleas and other insects
How it Works

Heat and light lure fleas from up to 30 feet away
SuperGrabber glue disks hold insects fast
TERRO® Refillable Flea Trap
Model Number
T230
Weight
8.3 oz
Dimensions
6.5 × 6. 5 × 4.85 in
Includes
1 Pack (1 flea trap and 2 glue boards)
Why does this product have a lead content warning?
Question by: Alfredo on Jul 26, 2021, 8:00 PM
We are required under California's Safe Drinking Water and Toxic Enforcement Act to display Proposition 65 Warnings on product labels. We are also required to provide the warnings on websites so that consumers can see the warnings at the time of purchase.
Answer by: Woodstream (Admin) on Jul 27, 2021, 8:00 PM
Can they be place directly on carpet floors?
Question by: Alan Wilson on Jan 24, 2022, 9:41 PM
This trap can be placed directly on a carpeted floor.
Answer by: Lauren Steiner on Jan 25, 2022, 8:58 AM
I have the terro flea trap I can find the replacement boards easy enough but the light burnt out where and what type of bulb would be able to replace the burnt out bulb
Question by: Chris kuhn on Dec 10, 2021, 12:51 PM
You can purchase a 7 Watt, 120 Volt bulb, similar to what is used in electric candles.
Answer by: Brandon Deleon on Dec 10, 2021, 12:54 PM
how long do the trap pads last in a dry room temp? i am looking to buy a two year supply and am worried that the pads would dry out near the end.
Question by: Tyler Pierce on Nov 4, 2021, 5:02 PM
As a environmental factors alter the effectiveness duration of the sticky pads, we are unable to provide a time frame.
Answer by: Kathryn Tator on Nov 5, 2021, 11:27 AM