TERRO® Refillable Spider Trap Bundle
Special Price
$24.99
Regular Price
$30.95
Earn 480 rewards points on your purchase! Learn More
Cannot Ship to:
IN, NM, PR
TERRO® Full Year Spider & Insect Protection Kit
Get indoor protection from spiders (including the Big 3: black widows, brown recluses, and hobo spiders) and crawling insects with the TERRO® Full Year Spider & Insect Protection Kit. The kit comes with one Refillable Spider & Insect Trap Plus Lure and four Spider & Insect Refill Glue Boards so that you can get a full year of protection. The discreet trap is designed to match your décor and can fit into small spaces, including underneath cabinets and furniture. Insects and spiders will find their way into the trap via six separate entry points and get stuck to the glue board inside the trap.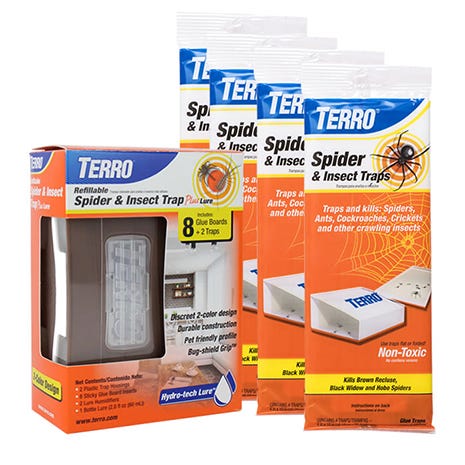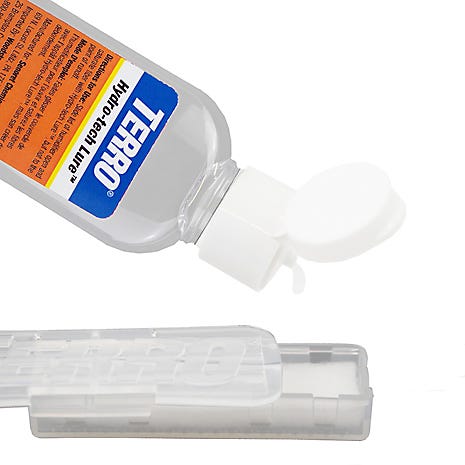 Catch More with the Lure
Catch even more insects with our Hydro-tech Lure®. To use, apply the Hydro-tech Lure™ into the included lure humidifier. This in turn provides the trap with moisture, which is a common insect attractant. This food-based lure will last up to 30 days per application and will increase your catch rate by 2.5x compared to traditional TERRO® Glue Boards.
Enjoy a Full Year of Protection
For your convenience and peace of mind, this kit provides enough supplies to defend your home against spiders and crawling insects for an entire year! It includes 2 trap housings, 12 glue boards, 2 lure humidifiers, and a 2 oz bottle of HydroTech® lure. Replace the glue boards as they become full of spiders, insects, or debris. Reapply lure to the humidifier every 30 days to keep insects interested in the trap.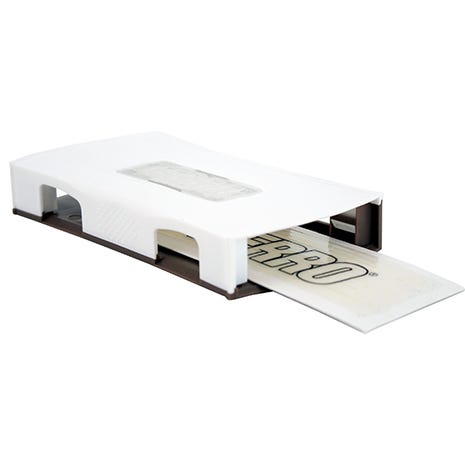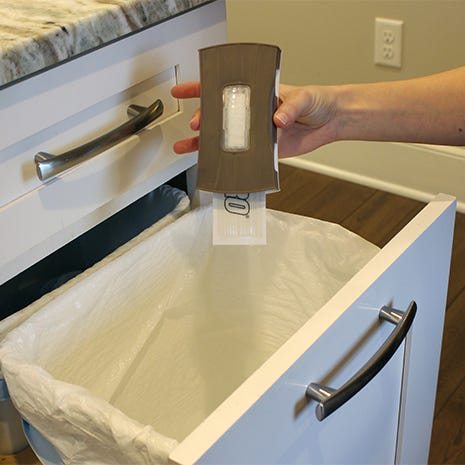 Designed with People in Mind
We know that picking up dead bugs is not fun. Our trap's exclusive Bug-shield Grip™ prevents contact with trapped insects when handling the trap. Use these finger grips to move the trap from one location to the next, to check on the catch, and when disposing or filling the trap with boards. To dispose of the glue boards, simply hold the trap housing over a trashcan and shake out the board, easily avoiding contact with the dead insects.
Pet-Friendly Design
Besides keeping you in mind, this trap is also ideal for homes with pets. This low-profile design is pet-friendly, making it difficult for paws and noses to fit inside and reach the sticky glue board. No more paws getting stuck on a glue board. The TERRO® Refillable Spider & Insect Trap is also made with a sturdy plastic housing for durability.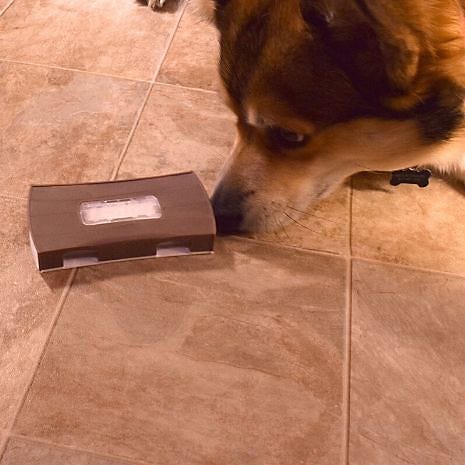 TERRO® Full Year Spider & Insect Protection Kit Product Details
Do you want to know more helpful details about the TERRO® Full Year Spider & Insect Protection Kit? Take a closer look at the in-depth specifications for this product.
TERRO® Full Year Spider & Insect Protection Kit
Model #
BT3220KIT
Eliminates
Spiders (including the Big 3), ants, cockroaches, crickets, and other crawling insects.
Recommended Use
Place around the home against baseboards, in corners, and behind doors and furniture.
Includes

2 Plastic Trap Housings
12 Glue Board Inserts
2 Lure Humidifiers
1 Bottle of Lure (2 fl oz)
TERRO® Full Year Spider & Insect Protection Kit
Model #
BT3220KIT
Eliminates
Spiders (including the Big 3), ants, cockroaches, crickets, and other crawling insects.
Recommended Use
Place around the home against baseboards, in corners, and behind doors and furniture.
Includes

2 Plastic Trap Housings
12 Glue Board Inserts
2 Lure Humidifiers
1 Bottle of Lure (2 fl oz)