Terro® Spring Insect Control Kit
Special Price
$42.99
Regular Price
$44.95
Terro® Spring Insect Control Kit
2
5
5
1
Earn 840 rewards points on your purchase! Learn More
TERRO® Liquid Ant Baits kill the ants you see and the ones you don't
TERRO® Spider & Ant Killer Spray kills spiders (including black widow, brown recluse, and hobo spiders), ants, cockroaches and other insects on contact
TERRO® Multi-Purpose Insect Bait protects against ants, crickets, earwigs, snails, and other insects for up to 4 weeks
TERRO® Mosquito Larvacide Pouches selectively target and kill mosquito larvae in fish ponds, gutters, and other standing water
All-in-one kit provides everything you need to protect from spring invaders
Cannot Ship to:
AK, HI, PR
TERRO® Spring Kit
Prepare for spring invaders with the TERRO® Spring Kit! This Spring Insect Control Kit contains everything you need to protect yourself from an array of creepy crawlers, including spiders, ants, mosquitoes, and many other insects. Arm yourself for spring with this convenient 2 pack of TERRO® Liquid Ant Bait, 1 can of TERRO® Spider & Ant Killer Spray, 1 shaker canister of TERRO® Multi-Purpose Insect Bait, and 1 package of TERRO® Mosquito Larvacide Pouches.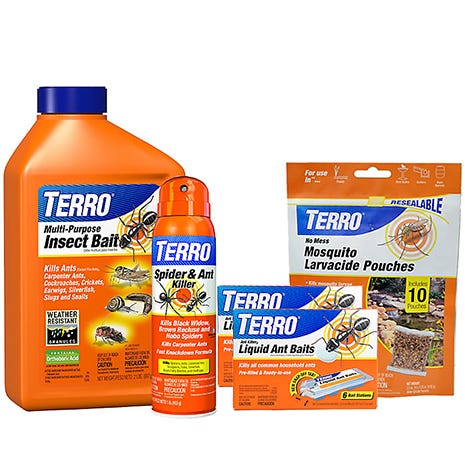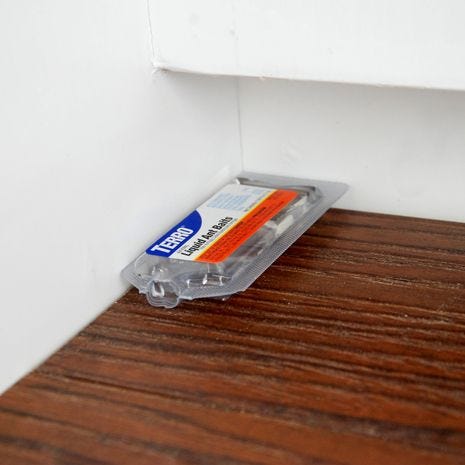 TERRO® Liquid Ant Baits
Kill common household ants with our TERRO® Liquid Ant Baits! As foraging ants take the bait, they circulate it through the colony, killing the ants you see and the ones you don't. The new and improved snap-off tab makes the stations easy to use. Plus, the closed bait stations prevent the bait from drying out to provide the ants with a continuous supply of liquid, day and night.
TERRO® Spider And Ant Killer
TERRO® Spider & Ant Killer targets the nervous systems of insects and arachnids to provide a fast kill on contact, including 4 weeks of added protection. This spray designed to kill black widow, brown recluse, and hobo spiders, but also kills a variety of other insects such as silverfish and cockroaches. This 1 lb aerosol container can be used both indoors and outdoors.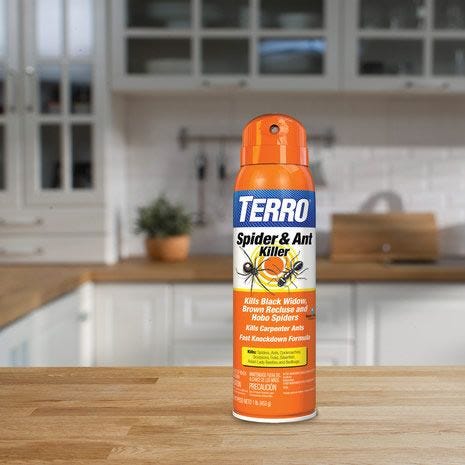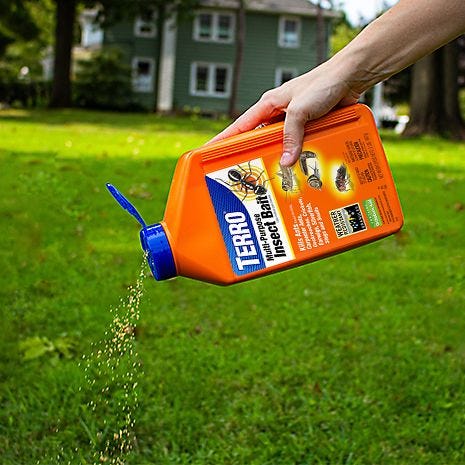 TERRO® Multi-Purpose Insect Bait
Apply TERRO® Multi-Purpose Insect Bait around the perimeter to kill ants, cockroaches, crickets, earwigs, silverfish, slugs, and snails before they come inside. The 2 lb shaker canister allows for easy application of the long-lasting weather-resistant granules and provides up to four weeks of protection.
TERRO® Mosquito Larvacide Pouches
Eliminate mosquito larvae around your property with TERRO® No Mess Mosquito Larvacide Pouches. Use it in fish ponds, bird baths, gutters, rain barrels, and other areas with standing water. Once applied, the pouches dissolve quickly to release a larvacide that kills mosquito larvae before they have a chance to turn into biting adults that may transmit diseases. These pouches provide long-lasting protection for up to 2 months.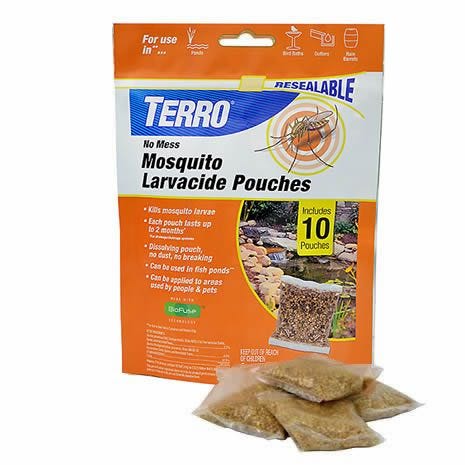 TERRO® Spring Kit Product Details
Do you want to know more helpful details about the TERRO® Spring Kit? Take a closer look at its in-depth specifications.
TERRO® Spring Kit
Model #
TSPRINGKIT
Includes
Eliminates
Common household ants, spiders, mosquitoes, crickets, earwigs, snails, and more
TERRO® SPRING KIT
Model #
TSPRINGKIT
Includes
Eliminates

TERRO® Liquid Ant Baits

Acrobat ants, allegheny ants, argentine ants, big-headed ants, cornfield ants, crazy ants, ghost ants, little black ants, odorous house ants, pavement ants, pyramid ants, thief ants, white footed ants, and other sweet eating household ants

TERRO® Spider & Ant Killer Spray

Ants, (including carpenter ants), cockroaches, scorpions, ticks, silverfish, Asian lady beetles, and bed bugs

TERRO® Multi-Purpose Insect Bait

Ants, cockroaches, crickets, earwigs, silverfish, slugs, and snails

TERRO® Mosquito Larvacide Pouches

Recommended Use

TERRO® Liquid Ant Baits

Along baseboards, in corners of rooms and cabinets, on countertops, under and behind appliances, under sinks or around pipes and water sources, on windowsills and around doorways, near garbage cans, and along ant trails

TERRO® Spider & Ant Killer Spray

Near entry points, along baseboards, cracks and crevices, and storage areas

TERRO® Multi-Purpose Insect Bait

Outdoor perimeter treatment, crawl spaces, attics, drop ceilings, basements with dirt or gravel floors, near garbage cans

TERRO® Mosquito Larvacide Pouches

Fish ponds, bird baths, water gardens, flower pots and planters, rain barrels, fountains, gutters, unused pools and pool covers, hollow trees and tree holes, livestock watering troughs, ditches and discarded tires