TERRO® Hobo Spider Traps
2
4
5
1
Earn 120 rewards points on your purchase! Learn More
Traps spiders, specifically the hobo spider
Includes 1 Pack (4 traps, with fact sheet on venomous spiders)
Use traps flat or folded
Place trap against wall or where spiders are noticed
Completely disposable - just toss and replace
Cannot Ship to:
NM, OK, PR
Product Description:
Keep your home free of creepy crawlers with the TERRO® Hobo Spider Traps. Redesigned to increase efficiency and improve the user experience, these traps are targeted at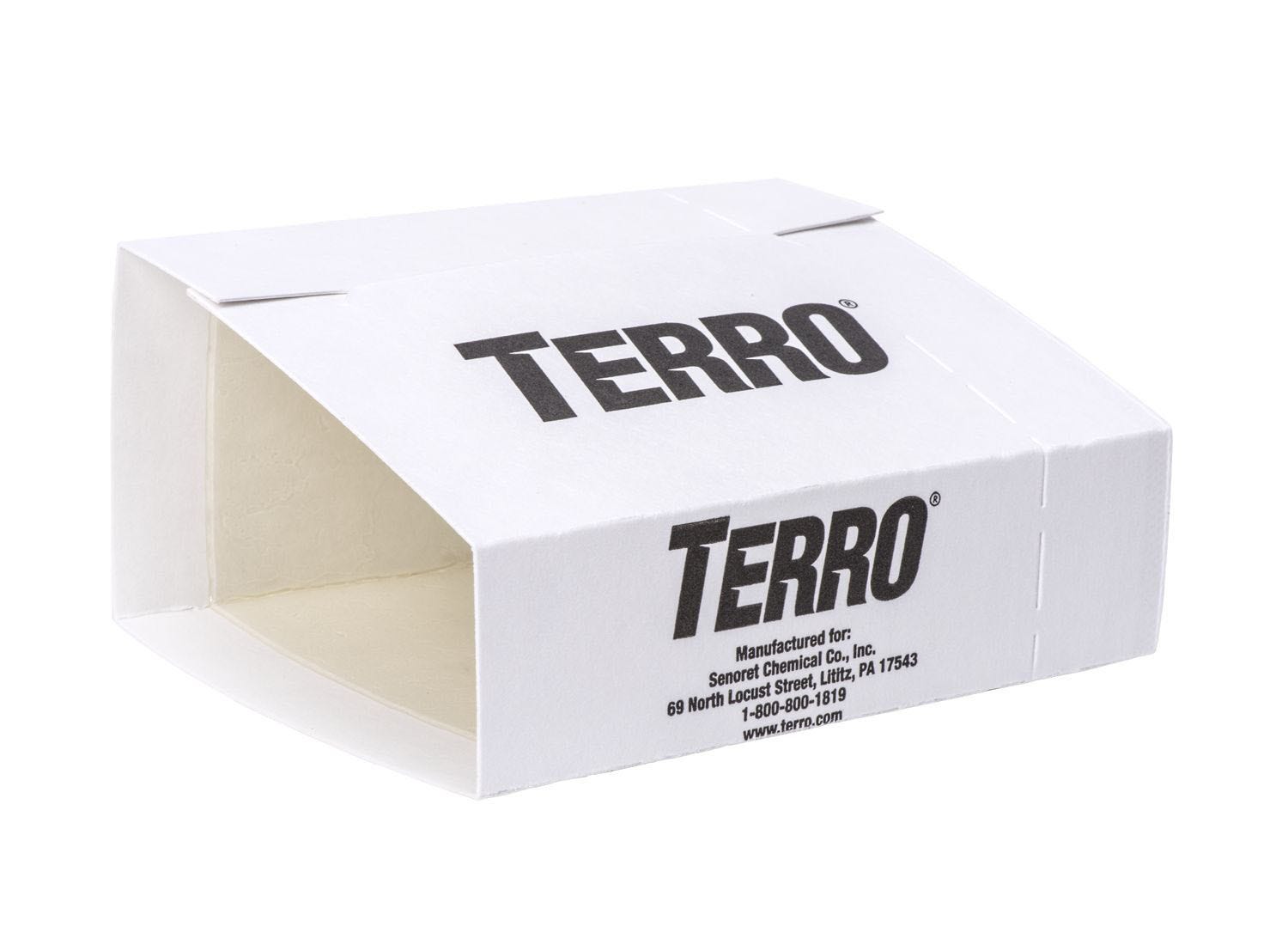 hobo spiders and other venomous spiders. Traps are a great way to capture and kill a large number of spiders that invade your home. For convenience, each trap comes pre-baited and ready to use – simply set it out!
Each package includes four glue traps with newly expanded edges, increasing the number of insect access points so that more of the surface can be reached. Once spiders step onto the glue, they become stuck fast. Plus, the traps can be folded to shield the sticky surface from children and pets, or used unfolded to lie flat. The lock-tab tent design when folded also hides the trapped spiders and crawling insects from direct view.
For best results, replace the spider traps every three months, or when the trap becomes full.
Where to Use
Spiders lurking inside houses are an unsettling thought for some people and terrifying one for others. But TERRO® Hobo Spider Traps can reduce your chance of encountering these creepy crawlers that invade your home. Successful catches rely on strategic placement. The improved design now offers flexibility in creating four separate, smaller glue boards to allow for multiple placements around the home. For best results, place your traps around the perimeter of the room, including along baseboards, in corners, behind or underneath furniture, and behind doors. In this placement, the traps will capture spiders as the roam in search of insects.
Directions for Use

Pre-fold the spider trap along fold lines.
Remove protective backing from the trap's sticky surface.
Form an enclosed device by folding trap again.
Place trap where there is spider activity, such as along baseboards, in corners and behind furniture.
TERRO® Hobo Spider Traps
Model Number
T293
Weight
.200 lb
Dimensions
4.25 x .25 x 12.0 in
Includes
4 traps, with fact sheet on venomous spiders
Customer Reviews
0%
of customers
recommend this product
Not Empressed With New Update
Aug 4, 2021
Loved the old style where the sticky adhesive part actually covered the whole trap. New looks overly cheap & doesn't cover an essential amount of the trap. I was using these for years, but now I am going to be switching brands because there is a gap letting spiders crawl past except for the unlucky few who avoided stepping onto the sticky part.
The very best product out there!n
Oct 30, 2019
Your products are absolutely amazing! I am deathly afraid of spiders! I live below the mountains in a home with tons of plants life just everywhere! Trees and bushes cover my front porch as well as my back patio. Certain times of the year I will find spiders in my bath tub, in my closet, in my kitchen sink, by my front door and back door. Somedays I will have encountered 4 in one day! I also had a huge fruit fly problem and tried everything! Nothing worked! But your products work and I am so grateful to you and your products! Thank you for giving me great peace of mind. Sincerely, Vickie Blackwell