TERRO® Yellow Jacket Trap
Earn 180 rewards points on your purchase! Learn More
Attracts and traps yellow jackets
Contains no chemical insecticides
Easy to use – add the included bait, fill with water, and hang
Decorative trap pattern hides trapped flies from view
Reusable trap can be emptied and re-baited once full
Cannot Ship to:
DC, HI, PR
Terro® Yellow Jacket Trap
Keep your outdoor space free of nuisance yellow jackets with the TERRO® Yellow Jacket Trap. It attracts, traps, and kills yellow jackets that can bother you outdoors. It's also easy to set up – just add the included bait to the trap, fill with water, and hang! The decorative trap pattern hides trapped insects from view, so you don't have to see them. When the trap is full, it can be emptied and re-baited for continuous trapping.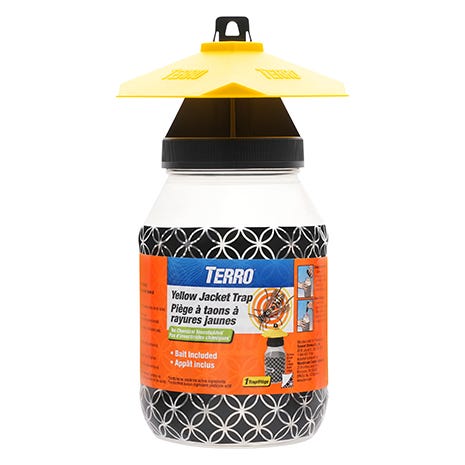 Attracts and Traps Yellow Jackets
Yellow jackets are an ever-present nuisance around many homes in the summer months. With the TERRO® Yellow Jacket Trap, you can attract and trap yellow jackets that pester you outdoors. The bait works by luring yellow jackets into the trap. They go in expecting a treat, and find they are unable to leave.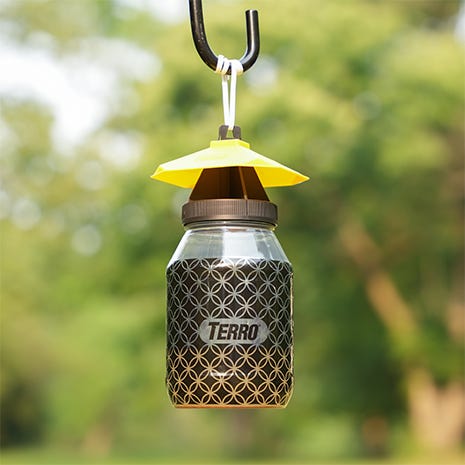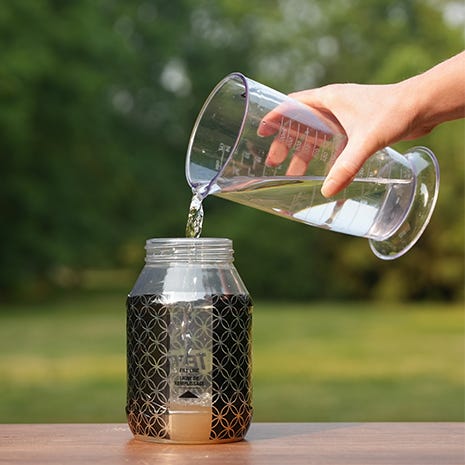 Easy to Use
For your convenience, the TERRO® Yellow Jacket Trap is incredibly easy to use. Simply empty the included bait pack into the trap, add warm water to the fill line, and swirl to mix. Hang the trap on a tree branch, stake, or other suitable hanger. Place in calm, sunny areas about 25 feet from activity areas for best results.
No Chemical Insecticides
TERRO® Yellow Jacket bait contains no chemical insecticides so you can use the trap with peace of mind. If needed, this trap can also be used with a supplemental bait as yellow jacket species and diets may vary. Recommended supplemental baits include lemonade, grenadine, fruit-flavored soda, fruit, fruit juices, beer, or sugar water.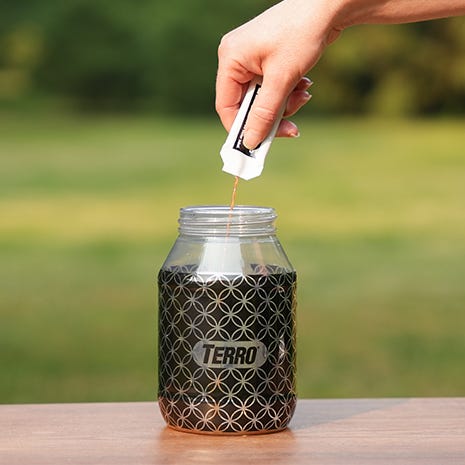 TERRO® Yellow Jacket Trap Product Details
Do you want to know more helpful details about the TERRO® Yellow Jacket Trap? Take a closer look at the in-depth specifications for this product.
TERRO® Yellow Jacket Trap
Model #
T362
Effective Against
Yellow jackets
Where to Use
Outdoors
TERRO® Yellow Jacket Trap
Model #
T362
Effective Against
Yellow Jackets
Where to Use
Outdoors
Trapping Tips

Hang the trap on a tree branch, stake, or other suitable hanger
Traps should be hung in the late evening or early morning when yellow jackets are not active
Place in calm, sunny areas about 25 feet from activity areas