NEWS RELEASE *High-res images and/or product sample available upon request
Protect Your Wardrobe and Kitchen with Powerful New Moth Trap
Dual Purpose Attractant in TERRO® Trap Controls Both Closet & Pantry Moths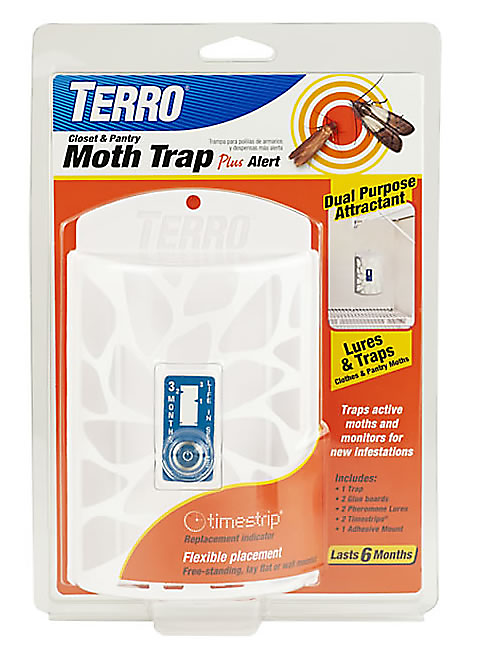 LITITZ, PA—May 6, 2019—Few things are more frustrating than closetmoth larvae feeding on your apparel or pantry moth larvae chomping on the grains in your cupboard. For the first time ever, homeowners can now protect themselves from both closet moths and pantry moths with a single trap. TERRO Closet & Pantry Moth Trap Plus Alert uses a powerful dual attractant to lure both types of adult moths into the glue trap, which prevents them from further breeding. The trap also monitors for new moth infestations.
"Moths swarming around your home are a signal you have a problem to address, but it can sometimes be hard to tell whether you're dealing with a pantry or closet moth invasion," says Stew Clark, research director at TERRO. "The TERRO® Closet & Pantry Moth Trap Plus Alert is designed to attract both pantry and closet moths as well as monitor for new infestations. The trap effectively takes any moth identification guess work out of the equation."
Where To Use
The TERRO® Closet & Pantry Moth Trap Plus Alert features an attractive design that blends in with most home décors and allows for versatile placement. Lay the trap flat, mount it, or use it freestanding.To control and monitor moth invasions in your home, use the TERRO® Closet & Pantry Moth Plus Alert in areas where moths are common or have been spotted. These areas include food storage areas such as kitchen pantries, cupboards or closets, as well as closets and drawers where clothing is stored.
"The sturdy trap housing on the Closet & Pantry Moth Trap Plus Alert prevents inquisitive pets and children from accessing the odorless, sticky glue trap," says Clark. "This adds to the flexibility of wherethe trap can be used in and around your home."
Long Lasting Protection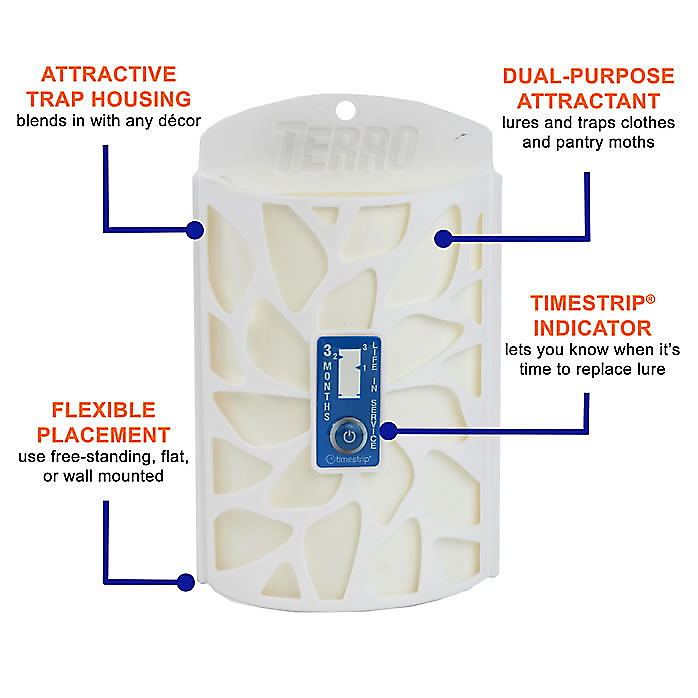 Each package of TERRO® Closet & Pantry Moth Trap Plus Alert contains two pheromone lures that last up to 3 months, providing up to 6 months of moth control. The lures are contained in individual airtight pouches to keep the attractant fresh until opened. A convenient Timestrip® indicator lets you know when it's time to replace the pheromone lure and glue board, eliminating the usual guesswork involved. The new TERRO traps are available at leading retailers nationwide or online at www.terro.com
About TERRO®
TERRO® is an industry leader in ant and pest control and has been a trusted brand since 1915. Based in Lititz, PA, the company offers proven ant and pest control products including liquid ant baits,aerosol sprays, perimeter granules, glue traps and ant dust products. TERRO® products are widely distributed at all leading hardware, home center, mass merchant, food and drug, farm and fleet, and independent garden center retailers nationwide. For more information on TERRO® products, call 1-844-837-7644 or visit terro.com
Media Contact:
Carolyn Schinsky
314-308-1682
carolyn.schinsky@gmail.com