NEWS RELEASE *High-res images and/or product sample available upon request
Newly Launched Fire Ant Bait Kills the Queen and Entire Colony
TERRO® Bait Kills Ants In 24 Hours, Continues to Control for up to 2 Months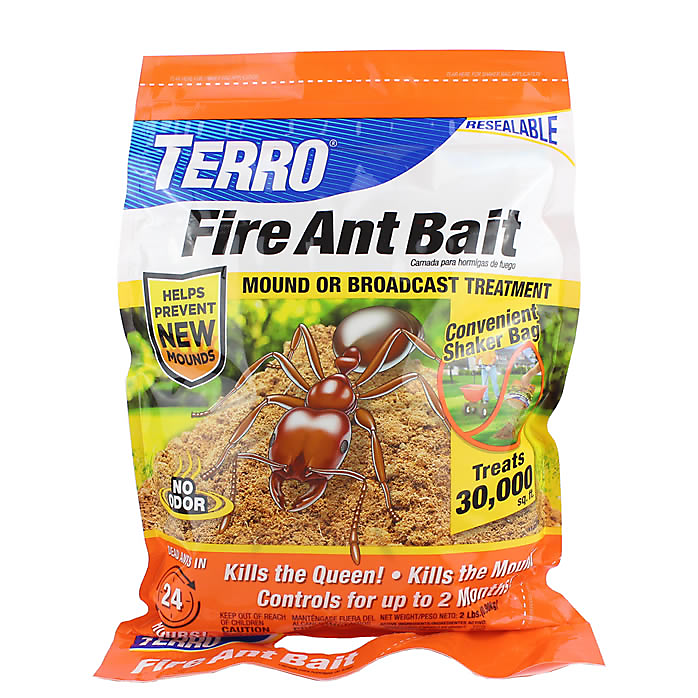 LANCASTER, PA—July 21, 2021—Aptly named, a sting from a fire ant causes a painful and burning sensation. Found throughout the Southeastern United States, fire ants tend to build mounds in open sunny areas like lawns. To help control fire ant invasions, TERRO®, the leading manufacturer of DIY ant control products , announces the launch of TERRO® Fire Ant Bait. Used as a mound or broadcast treatment, the new bait kills the queen and colony in as little as 24 hours and continues to kill for up to two months.
TERRO® Fire Ant Bait granules are odor-free and can be applied directly to mounds or used as a broadcast treatment throughout the yard. The convenient shaker bag allows for easy application in either case. The bait granules are attractive and lethal to fire ants. Once applied, worker ants quickly find the bait and carry it back to the mound to share it with the entire colony, including the queen.
"Baiting provides a long-term seasonal strategy for fire ant control," says Stew Clark, Director of Research at TERRO. "I recommend using TERRO Fire Ant Bait as a broadcast treatment over the entire lawn early in the spring, before ants begin to form new colonies, and broadcasting the bait again in the fall. This will effectively work to kill the queen and colony and it will also help prevent new mounds. Any mounds that do manage to survive should be treated directly with the bait."
Each 2 lb. bag of TERRO® Fire Ant Bait treats up to 30,000 sq ft, providing ample coverage. To apply directly to ant mounds, sprinkle the bait evenly over and around mounds in a 4-ft diameter circle. When treating mounds, apply gently to avoid disturbing ants. To use as a broadcast treatment, spread the bait evenly over the infested area with a handheld or ground-driven rotary broadcast spreader. For best results, apply when ants are active – typically in the early morning or late evening when foraging is at its peak.
"A lack of mounds in your yard does not mean there are no fire ants present," cautions Clark. "Fire ants create intricate underground tunnels that can extend up to 30 feet away from a mound. It is typically easier to prevent fire ant colonization than it is to eliminate existing colonies after they have infested your yard. Baiting is your best strategy for long-term control of fire ants."
TERRO® Fire Ant Bait is available for purchase online at www.terro.com and at leading retailers nationwide.
About TERRO®
TERRO® is an industry leader in ant and pest control and has been a trusted brand since 1915. Based in Lancaster, PA, the company offers proven ant and pest control products including liquid ant baits, aerosol sprays, perimeter granules, glue traps and ant dust products. TERRO® products are widely distributed at all leading hardware, home center, mass merchant, food and drug, farm and fleet, and independent garden center retailers nationwide. For more information on TERRO® products, call 1-844-837-7644 or visit terro.com
Media Contact:
Carolyn Schinsky
314-308-1682
carolyn@ryan-pr.com