NEWS RELEASE *High-res images and/or product sample available upon request
TERRO® Garbage Guard™ Kills Insects and Prevents New Infestations
New Trash Can Insect Killer Lasts Entire Summer Season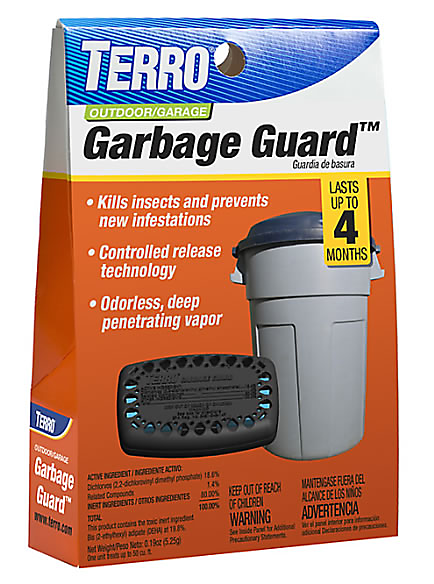 LITITZ, PA—May 6, 2019—Warm weather can open the door to a seemingly endless swarm of insects around and inside of outdoor trash bins, garbage cans and trash dumpsters. This summer, take control of the situation with TERRO® Garbage Guard™. The new insect control product kills insects drawn to trash receptacles by odors and food remnants, and prevents them from returning.
The Garbage Guard™ pod comes with an adhesive strip for easy attachment to the underside lid of outdoor trash cans and dumpsters. Once inside an enclosed space, the compact pod slowly releases a clean, odorless vapor that is evenly distributed throughout the trash receptacle. The deep penetrating vapor quickly kills visible and hiding insects and prevents new infestations.
"There is a lot of buzz surrounding the new TERRO® Garbage Guard™ – no pun intended," says Ethan Grodzinski, category development associate at TERRO®. "Not only is this trash can insect killer the first of its kind, it's effective, extremely easy to use, and makes taking out the trash a more tolerable chore– no more dealing with maggots and crawling or flying insects in your outdoor trash bins!"
TERRO® Garbage Guard™ is designed with controlled release technology to slowly diffuse the insect killing vapor for up to four months. The long lasting vapor kills flies, gnats, mosquitoes, moths, silverfish, roaches, spiders, beetles, earwigs and spider mites, and wards off new pest invasions.
"A single application of Garbage Guard™ provides an entire summer of insect control," says Grodzinski. "When you're ready to use it, just remove the pod from the sealed bag, attach it inside your trash can or dumpster, and close the lid. It's that easy."
For superior adhesion, clean the lid surface before applying. After applying TERRO® Garbage Guard™ inside the trash can or dumpster, keep the lid closed when not in use. One pod treats up to 50 cubic feet. If more than one pod is needed, space them evenly throughout the treatment area. Replace the pod after 4 months or when effectiveness diminishes. Each package of TERRO® Garbage Guard™ contains one ready-to–use pod. The product may be purchased online at www.terro.com and at leading retailers nationwide.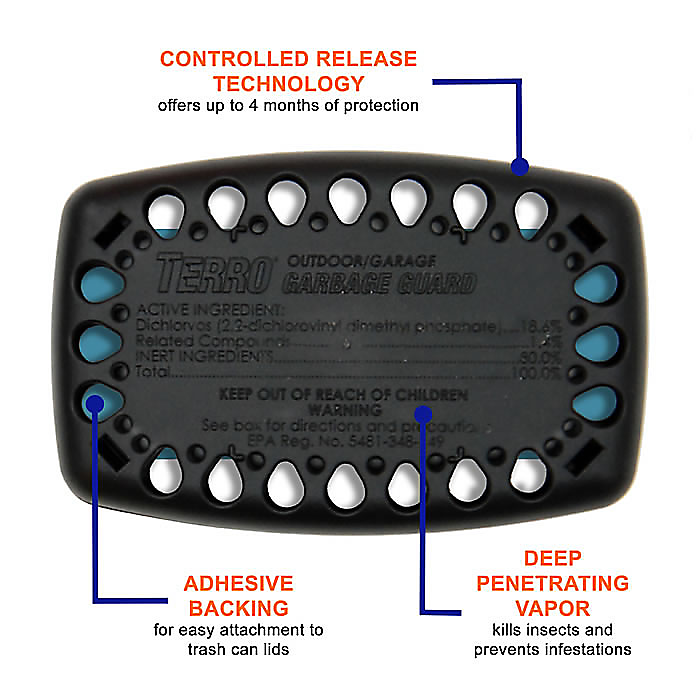 About TERRO®
TERRO® is an industry leader in ant and pest control and has been a trusted brand since 1915. Based in Lititz, PA, the company offers proven ant and pest control products including liquid ant baits, aerosol sprays, perimeter granules, glue traps and ant dust products. TERRO® products are widely distributed at all leading hardware, home center, mass merchant, food and drug, farm and fleet, and independent garden center retailers nationwide. For more information on TERRO® products, call 1-844-837-7644 or visit terro.com
Media Contact:
Carolyn Schinsky
314-308-1682
carolyn.schinsky@gmail.com