NEWS RELEASE *High-res images and/or product sample available upon request
Get Rid of Household Flies with
TERRO® Discreet Indoor Fly Trap with Lure
New Trap Attracts and Traps Flies with Odorless, Food-Based Lure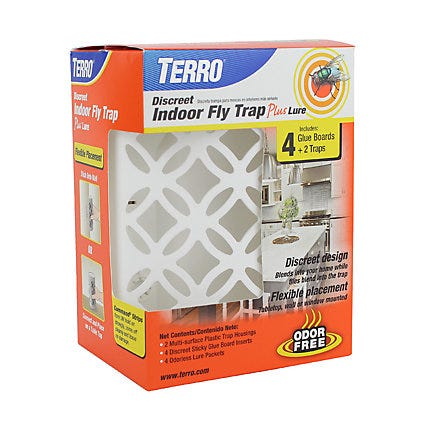 LANCASTER, PA—July 21, 2021—The house fly is one of the most common insects in the US - and arguably the most annoying. Typically found swarming in and around homes, flies can quickly spread disease as they travel from rotting garbage to exposed food. The new Discreet Indoor Fly Trap Plus Lure from TERRO®, the leading manufacturer of DIY insect control products, uses an odor-free, food-based lure to attract and trap nuisance flies throughout the home.
The Discreet Indoor Fly Trap Plus Lure has a simple, patterned design with high contrast openings that provides a discreet option for fly control in homes. The fly trap blends into any décor while allowing trapped flies to blend into the dark surface of the included glue boards.
"Household flies breed and feed in waste, including garbage, feces, and rotting food," says Stew Clark, Director of Research at TERRO. "Sure, they're a nuisance but flies are primarily hated because they contaminate food, creating a health hazard. The new Indoor Fly Trap offers an easy and effective way to protect homes from these unwanted pests."
TERRO® Discreet Indoor Fly Trap Plus Lure is easy-to-use. Simply sprinkle the lure on the sticky surface of the glue board, insert the board into the trap housing, and place or mount the trap anywhere flies are present. The Indoor Fly Trap is designed with versatile placement in mind. Mount the trap onto walls, windows or appliances with the included adhesive strips or place on countertops and tables. Once the sticky glue board is full of flies, remove from trap housing and discard.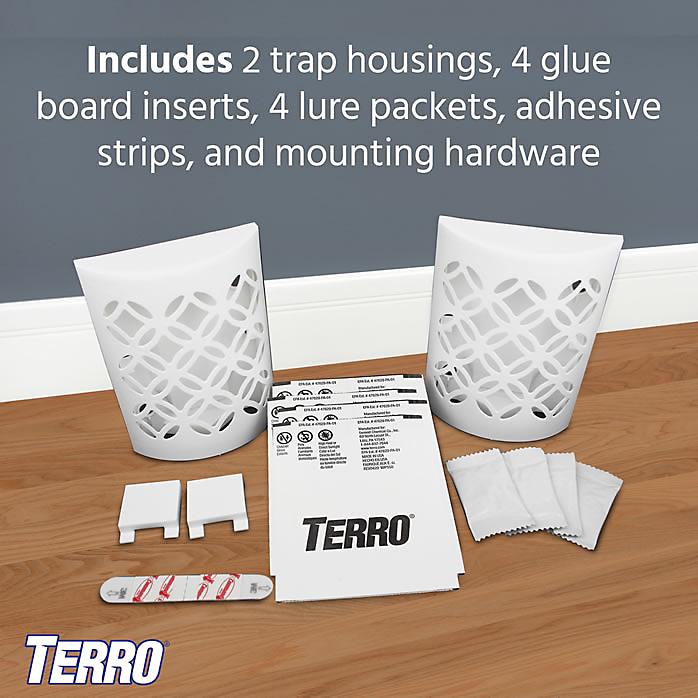 "The food-based lure attracts flies into the trap," says Clark. "Once inside the trap, flies become stuck on the glue board insert and are unable to escape."
Each TERRO® Discreet Indoor Fly Trap Plus Lure includes two trap housings, four glue board inserts, four odorless lure packets, adhesive strips and mounting hardware. The traps are available for purchase online at www.terro.com and at leading retailers nationwide.
About TERRO®
TERRO® is an industry leader in ant and pest control and has been a trusted brand since 1915. Based in Lancaster, PA, the company offers proven ant and pest control products including liquid ant baits, aerosol sprays, perimeter granules, glue traps and ant dust products. TERRO® products are widely distributed at all leading hardware, home center, mass merchant, food and drug, farm and fleet, and independent garden center retailers nationwide. For more information on TERRO® products, call 1-844-837-7644 or visit terro.com
Media Contact:
Carolyn Schinsky
314-308-1682
carolyn@ryan-pr.com