NEWS RELEASE *High-res images and/or product sample available upon request
Get Rid of Roaches with New TERRO® Roach Bait Powder
Indoor/Outdoor Roach Killer Contains 150 Bait Placements Per Tube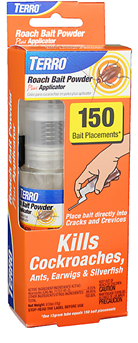 LANCASTER, PA—July 6, 2021—Humans have never taken kindly to cockroaches. These disease-spreading pests creep into homes, contaminate food and can be difficult to eliminate. The good news is there is now a DIY roach control product that targets insects where they live and hide. TERRO® Roach Bait Powder Plus Applicator quickly kills roaches, as well as ants, earwigs, and silverfish. The new bait powder can be placed directly into cracks and crevices thanks to a unique 360-degree swivel applicator that allows for effective and easy bait placement.
Each container of Roach Bait Powder includes an impressive 150 bait placements to help homeowners tackle insect infestations of any size. The powder bait adheres to roaches when they walk through it. The powder is later ingested when the roaches groom themselves. The bait allows insects time to return to the colony, where the insecticide can be passed to other pests, which minimizes reproduction and ultimately reduces and controls the population.
"The secret food-based ingredients in this finely ground powdered bait make it irresistible to roaches," says Stew Clark, Director of Research & Development at TERRO. "The 360-degree nozzle makes it easy to apply the bait deep into cracks and crevices with every puff. This makes it a great choice for areas at high risk of roach infestations, which is why pest control professionals have been using this type of bait and bait application for decades."
Roach Bait Powder Placement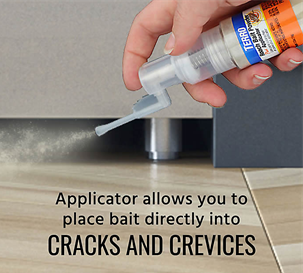 TERRO Roach Bait Powder is designed for indoor and outdoor use. To effectively eliminate roaches, ants, earwigs and silverfish, apply the bait in cracks and crevices, in wall voids, around windows and doors, under and behind cabinets and appliances, around pipes, in crawl spaces, and other areas where insects may be nesting.
"A little bit of this bait goes a long way," notes Clark "And, unlike other bait formulations containing primarily peanut butter and an active ingredient, the small powdery particles in this bait won't dry out."
To apply bait, lightly shake the tube before removing the cap. Hold the applicator tube parallel to the floor and squeeze the tube once per bait placement. For light infestations, 4 to 6 bait placements per 100 sq ft treatment area is recommended. For larger infestations, use 12 to 24 bait placements per 100 sq ft treatment area.
"When it comes to getting rid of roaches in the home, baiting is always the first step," says Clark. "We're now giving homeowners an easy-to-use bait that won't make a mess when applied and can target an entire insect infestation, no matter the size. Bottom line, trust TERRO. It works!"
Where to Buy
Each container of TERRO® Roach Bait Powder contains a 360-degree applicator and approximately 150 ready-to-use bait placements. The product is available for purchase online at www.terro.com and at leading retailers nationwide.
About TERRO®
TERRO® is an industry leader in ant and pest control and has been a trusted brand since 1915. Based in Lancaster, PA, the company offers proven ant and pest control products including liquid ant baits, aerosol sprays, perimeter granules, glue traps and ant dust products. TERRO® products are widely distributed at all leading hardware, home center, mass merchant, food and drug, farm and fleet, and independent garden center retailers nationwide. For more information on TERRO® products, call 1-844-837-7644 or visit terro.com
Media Contact:
Carolyn Schinsky
314-308-1682
carolyn@ryan-pr.com