NEWS RELEASE *High-res images and/or product sample available upon request
TERRO® Adds Tick & Flea Yard Spray to
Line of DIY Insect Control Products
Fast-Acting Formula Kills Pests on Contact, Keeps Killing for up to 4 Weeks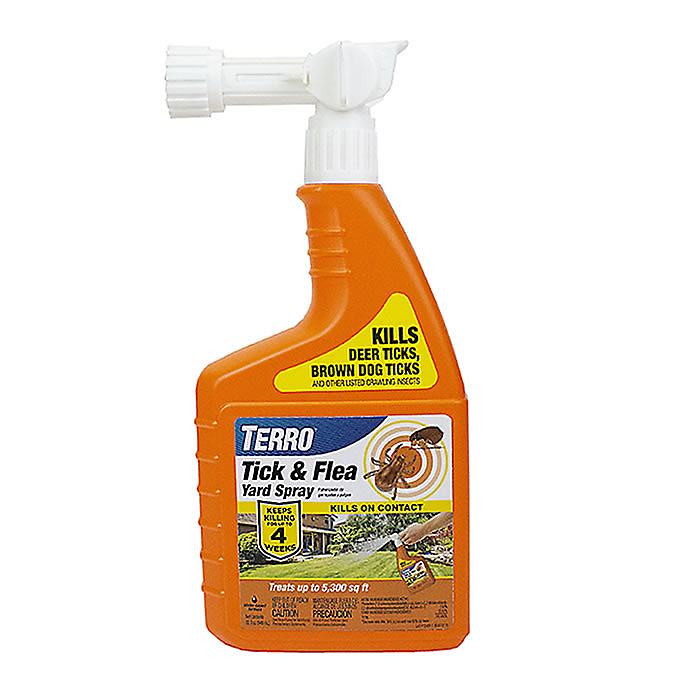 LANCASTER, PA—July 21, 2021—Protect your family -even the furry ones - from disease-carrying ticks and fleas with a new pest control solution from TERRO®, the leading manufacturer of DIY insect control products. TERRO® Tick & Flea Yard Spray kills deer ticks, fleas, dog ticks, and other crawling insects on contact. One application lasts up to four weeks, providing long-term control of harmful insects.
TERRO® Tick & Flea Yard Spray protects lawns, trees, shrubs, roses and flowers from ticks, fleas and other insects like aphids, a variety of worms, stink bugs, cicadas and spider mites.
"No region in the US is free from the threat of fleas and ticks and the diseases they can carry like Lyme and typhus," says Stew Clark, Director of Research at TERRO. "With TERRO Tick & Flea spray you can kill and control dozens of unwelcome insects, protecting your family and pets from potentially serious conditions."
A hose-end sprayer attaches to the Tick & Flea Yard Spray container for ease-of-use around the home. To use, simply connect sprayer to hose, turn on water and spray evenly over the area to be treated. Each 32-ounce container treats up to 5,300 square feet, providing thorough coverage of lawns, shrubs, groundcovers and other areas where insects live and hide.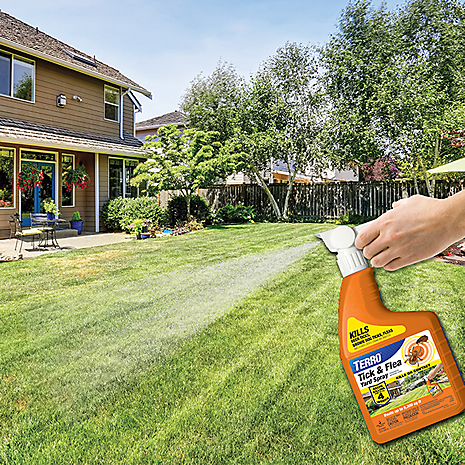 "Ticks can remain active year-round, but tick activity typically revs up between April through September," says Clark. "For optimal control, I recommend targeting nymphs with Tick & Flea Yard Spray applications in the late spring and early summer and targeting adult ticks in late summer and early fall."
Before using TERRO Tick & Flea Yard Spray, thoroughly wet down grass a few hours before applying. Home lawns should be no taller than three inches at time of application. For use on roses and flowers, wet the plants with the spray, hitting the underside of leaves when possible. For best results, spray in the late afternoon or evening when the temperature ranges from 50 to 70 degrees and winds are calm
TERRO Tick & Flea Yard Spray is available for purchase online at www.terro.com and at leading retailers nationwide.
About TERRO®
TERRO® is an industry leader in ant and pest control and has been a trusted brand since 1915. Based in Lancaster, PA, the company offers proven ant and pest control products including liquid ant baits, aerosol sprays, perimeter granules, glue traps and ant dust products. TERRO® products are widely distributed at all leading hardware, home center, mass merchant, food and drug, farm and fleet, and independent garden center retailers nationwide. For more information on TERRO® products, call 1-844-837-7644 or visit terro.com
Media Contact:
Carolyn Schinsky
314-308-1682
carolyn@ryan-pr.com