TERRO® Liquid Ant Baits - All Questions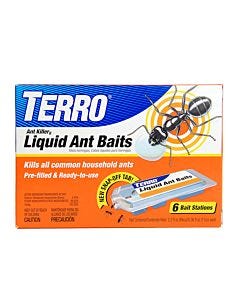 How do I clean liquid that spilled onto the floor?
Question by: Steven Fox on Aug 26, 2021, 7:30 AM
This product can be cleaned up with warm water and a mild soap.
Answer by: Kathryn Tator on Sep 1, 2021, 9:23 AM
My dog ate a trap. How much harm will be done?
Question by: Dan Rodriguez on Oct 27, 2021, 2:19 PM
The ingredients in this product are water, sugar, and borax, we recommend contacting your vet for specific medical advice pertaining to your dog.
Answer by: Kathryn Tator on Oct 27, 2021, 2:47 PM
Your site is VERY vague about whether the bait traps are toxic to animals or children. Please specify YES or NO I have small children and cats.
Question by: Marny Lewis on Nov 30, 2021, 6:42 PM
The liquid bait is comprised of sugar, water, and borax (a common ingredient in laundry soaps and detergents). We recommend to keep it out of reach of children and pets. Any medical concerns can be directed to a physician or veterinarian.
Answer by: Lauren Steiner on Dec 1, 2021, 7:56 AM
Does ant killer expire
Question by: Tom on Apr 3, 2022, 8:40 PM
TERRO® Liquid Ant Bait is made of water, sugar and borax. These ingredients do not have a shelf life. As long as it is still in liquid form, you can still use it.
Answer by: Rachel Faust on Apr 4, 2022, 10:02 AM
how much Borax is in each liquid ant bait station? I'm trying to determine how dangerous it is to our dog.
Question by: Mark on May 16, 2022, 1:50 PM
There is 5.40% Sodium Tetraborate Decahydrate (Borax) per bait station.

Answer by: Rachel Faust on May 16, 2022, 2:17 PM