It's not fun dealing with fruit flies in your kitchen – or anywhere else for that matter.
These bugs seem to be present at all times of the year and are a frustrating pest to battle. For one thing, their small size makes them difficult to see until they're buzzing by your face. They also seem to reappear even after you've cleaned everything you can think of that might attract them.
Get Rid of Fruit Flies Today
Of course, the best way to defeat an enemy is to understand him. With that in mind, we've assembled a list of the most common questions people have about fruit flies, their habits and the best ways to get rid of fruit flies.
1 – WHAT ARE FRUIT FLIES ATTRACTED TO?
Fruit flies are attracted to the scent of ripened fruits and vegetables, both of which are commonly found in your kitchen. Alcohol and sugary drinks are also on the menu for hungry fruit flies.
Those are the most obvious attractants, but non-food items can also draw in fruit flies, especially cleaning supplies. Don't be surprised if fruit flies feed on the residue remaining on damp mops, moist cleaning rags and sponges, or near buckets of wastewater.
Most of all, it's important to know they only need a thin layer of fermenting material to thrive and lay eggs, so extreme cleanliness is vital.
2 – CAN FRUIT FLIES MAKE YOU SICK?
Unfortunately, fruit flies can easily pick up filth and contaminants from the objects they land on – especially since many of their favorite food items are found in our waste receptacles.
Further, their larvae, which develop in the fermenting fruit they prefer to eat, can cause stomach distress or illness when unintentionally consumed by people. Even larvae can transfer contaminants from their parents' breeding site to fruits and vegetables.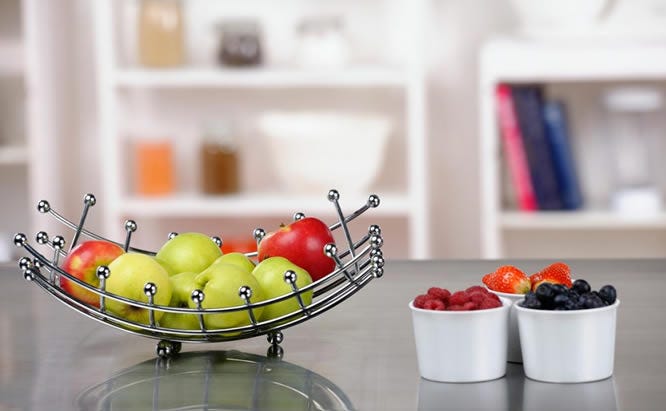 3 – WHERE DO FRUIT FLIES LAY EGGS?
Fruits and vegetables are the primary places where adult fruit flies lay their eggs. To do so, the produce needs to be overripe or rotting – they won't try to burrow into food that is not yet fermenting. Once conditions are right, the adult fruit fly breaches the outer portion of the fruit or vegetable and deposits eggs inside.
Overripe produce is not the only place where fruit flies can lay their eggs, though. Look for small accumulations of sludge that fruit flies can utilize for laying eggs. This sludge is best described as a goopy solution of debris and liquid that collects in the bottom of trash cans, inside garbage disposals, inside plumbing and in the seams of appliances. Even a small amount of sludge can host a few fruit fly eggs.
4 – CAN FRUIT FLIES LIVE IN DRAINS?
Fruit flies eagerly live and breed inside drains, where they can often find the food and moisture they need. Though it may seem like they would get washed away whenever you run your faucet, they often survive this flood of water.
Also be aware that the bugs you think are fruit flies may actually be drain flies, so determine what you are dealing with before taking further action. Get rid of drain flies, which look more like tiny, fuzzy moths with TERRO® products.
5 – DO FRUIT FLIES DIE IN THE WINTER?
Winter weather doesn't kill off fruit fly populations – after all, winter in many areas can be quite warm. Cold temperatures, however, will stunt the development of new generations of fruit flies.
Scientists have found that at 60°F, the lifespan of fruit flies decreases. When the temperatures fall below 53°F, these flies stop developing entirely.
Still, adult fruit flies have the ability to "overwinter" when conditions get too extreme for them. This allows a fruit fly population to survive frigid temperatures and start the next generation when favorable conditions return.
6 – CAN FRUIT FLIES GET THROUGH SCREENS?
There's some debate on whether fruit flies can wiggle their way through window and door screens. Part of the problem is that not all screens are made the same way, so one screen may keep fruit flies out, while another may not. Further, screens aren't the only opening that may be letting fruit flies into a home. Opening and closing doors, gaps in the structure, and plumbing could all be allowing fruit flies to enter a home.
7 – WHY ARE FRUIT FLIES IN MY ROOM?
Fruit flies don't discriminate about where they get their nourishment – if they can find something to eat in your bedroom, bathroom or living room, they'll stick around.
If an area not normally associated with food storage or food consumption has a fruit fly problem, do a thorough cleaning of the room. Look for food that may have been dropped or spilled. Carpets may harbor some moisture from spilled wine, beer or soda. All of these items are major fruit fly attractants.
In a bathroom, check drains and garbage cans for sludge that may be attracting fruit flies.
8 – WILL FRUIT FLIES DIE ON THEIR OWN?
If you're willing to wait a long time and keep an area absolutely spotless, then yes, a fruit fly population will eventually deplete its food sources (which also serve as their breeding site).
This is easier said than done, of course. After all, who wants to wait out such an infestation when there are simple steps to take to eliminate these pests? If you do not want to wait, TERRO® has you covered, place one of our TERRO® Fruit Fly Traps and take care of these unwanted pests.

Fruit fly trap
Lasts 30 days. Stops pesky fruit fly invasions
Shop Now
9 – WHY ARE FRUIT FLIES IN MY HOUSE PLANTS?
We mentioned earlier that insects in your drains could actually be drain flies. Similarly, if you're seeing a haze of flies lingering around a potted plant, then you may have fungus gnats, not fruit flies. Fungus gnats live and breed in the soil, and rarely travel far from it.
Further, fungus gnats are shaped more like a mosquito, while fruit flies bear a certain resemblance to house flies; the main differences being that fruit flies are smaller and tan-colored with red eyes.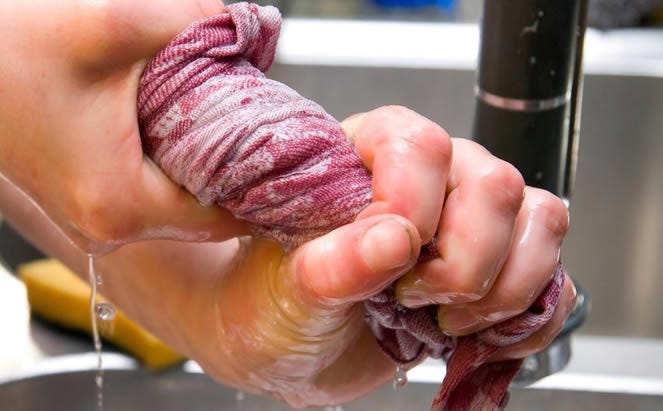 10 – HOW CAN I GET RID OF FRUIT FLIES?
To properly battle fruit flies in your household, you should start by placing fruit fly traps in problem areas. You can make your own trap, but it's easier and far more pleasant to use a pre-manufactured trap.
Next, clean the problem room thoroughly:
Remove spilled or dropped food.
Empty trash cans and clean them.
Clean grime off of appliances, including your dishwasher.
Scour cabinets, which may have food residue on them.
Flush out sinks and drains with a cleaning fluid.
Keep sinks dry when not in use.
Dispose of or clean mops, cleaning rags or sponges.
Remove any food that could be attracting fruit flies.
With those chores done, keep your fruit fly traps on your counter for several weeks and replace them as necessary.
YOUR FRUIT FLY BATTLE PLAN
Now that you have more information on what makes fruit flies tick, we want to hear from you about your efforts to eliminate your fruit fly problem. Let us know in the comments below or when you visit TERRO® on Facebook. You can also learn more about fruit flies and other insects on our YouTube channel and the TERRO® Insect Library.
For more ideas on the TERRO® products that can help you keep your home and business pest-free, subscribe to our eNewsletter, which offers helpful articles and exclusive updates on the products you need!
Recommended Fruit Fly Solutions