NEWS RELEASE *High-res images and/or product sample available upon request
Prevent Spider Web Formations with New, Easy-to-Use TERRO® Cobweb Eliminator
Long-lasting Formula Keeps Spiders Away & Prevents New Webs for up to 60 Days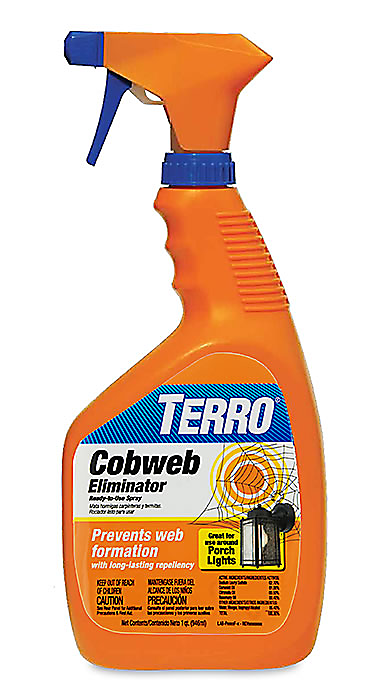 LITITZ, PA—May 6, 2019—Dusty cobwebs conjure up images of abandoned old houses and creepy, dark attics where spiders lie in wait. In reality, cobwebs are commonly found in and around perfectly maintained, well-lit homes. Now, thanks to a new product from TERRO®, an industry leader in DIY pest control, homeowners can prevent creepy cobweb formations and keep spiders away with TERRO® Cobweb Eliminator. This effective, new formula provides long-lasting repellency against spiders and stops new webs from forming for up to 60 days when applied to indoor or sheltered outdoor surfaces
"No one wants spider webs around their homes, and certainly no one wants to walk into one," says Ethan Grodzinski, category development associate at TERRO. "TERRO Cobweb Eliminator is formulated to lessen the chance of any unfortunate encounters with spiders or sticky cobwebs. It starts working immediately to prevent spiders from forming new webs after you knock them down."
Where To Use
After removing old spider webs, use TERRO Cobweb Eliminator as a surface treatment both indoors and outdoors to discourage new web formations. Spray around exterior lights, porches and entryways, in basements, and other areas where spiders commonly build webs. TERRO Cobweb Eliminator can be used as a pre-season preventative treatment or in problem areas after web removal.
For superior results, clean the area to be treated prior to applying. If cobwebs are present, remove them with a broom or brush before spraying. Reapply TERRO Cobweb Eliminator every 60 days or more frequently if area is exposed to heavy rain..
"TERRO products are the gold standard in home insect control and this new product is no exception," states Grodzinski. "TERRO Cobweb Eliminator is perfect for any homeowner who wants to repel spiders and prevent new webs."
Where to Buy
Each bottle of TERRO® Cobweb Eliminator contains one quart. The product may be purchased online at www.terro.com and at leading retailers nationwide.
About TERRO®
TERRO® is an industry leader in ant and pest control and has been a trusted brand since 1915. Based in Lititz, PA, the company offers proven ant and pest control products including liquid ant baits, aerosol sprays, perimeter granules, glue traps and ant dust products. TERRO® products are widely distributed at all leading hardware, home center, mass merchant, food and drug, farm and fleet, and independent garden center retailers wide. For more information on TERRO® products, call 1-844-837-7644 or visit terro.com
Media Contact:
Carolyn Schinsky
314-308-1682
carolyn.schinsky@gmail.com