NEWS RELEASE *High-res images and/or product sample available upon request
Detect & Control Fleas with TERRO® Flea Trap
New Chemical-Free Trap Lures Fleas from 30 Feet Away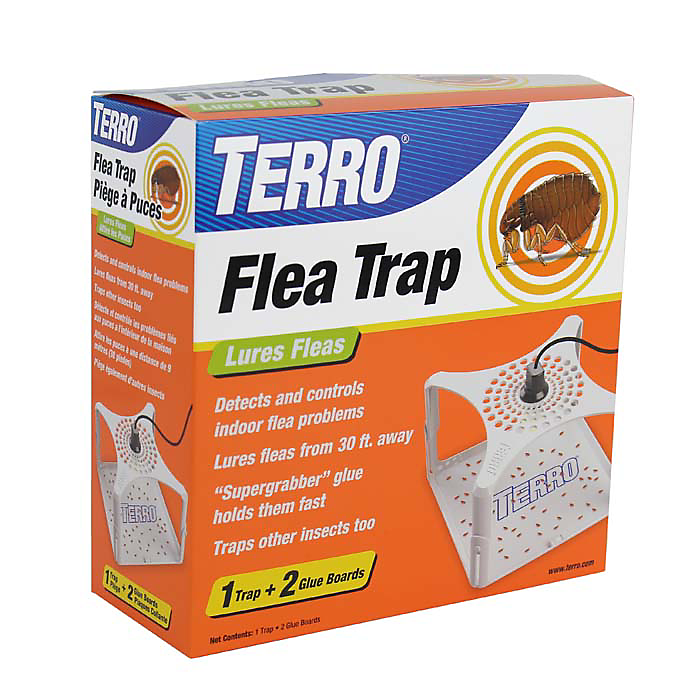 LANCASTER, PA—July 21, 2021—24 hour-a-day flea protection has never been easier. A new flea trap from TERRO®, the leading manufacturer of DIY insect control products detects, monitors and controls flea problems without having to spray chemicals or apply them to your pet.
The TERRO® Flea Trap, which features sticky glue boards, uses light and heat to simulate a warm-blooded host, luring fleas out of upholstery and carpeting from as far as 30 feet away. When the fleas jump at their intended meal, they instead land on the "SuperGrabber" glue discs and get stuck.
"Getting rid of fleas can be a difficult process due to the long lifecycle of a flea," says Stew Clark, Director of Research at TERRO. "In order to get rid of fleas, early detection is important. The TERRO Flea Trap will notify you of the presence of parasites so you can begin to take action to prevent a full-blown infestation."
The distinctive design of the TERRO Flea Trap makes it one of the most efficient ways to control fleas. Adult fleas sense heat, indicating a warm-blooded animal that they typically use as a host. By simulating the warmth of the host, the trap attracts fleas from where they live and hide. When the fleas jump toward the heat to feast on their "host," they instead find themselves stuck to the glue board, unable to escape. The glue board also captures other insects that attempt to cross its path. Replace the glue board every two to four weeks or when trap is full.
"Fleas prefer animal hosts but will resort to biting people when animals are unavailable, so you want to strategically place flea traps in every room where your pet hangs out," says Clark. "Pet owners can use the TERRO Flea Trap year-round to lure fleas onto the trap. At the first sign of fleas, treat your pet with a remedy recommended by a veterinarian."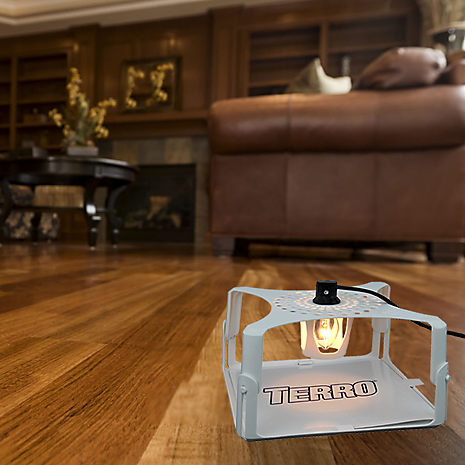 The easy-to-use flea trap features convenient design elements including 360° access that allows pests to enter from all angles, and an attached canopy that partially obscures the view of trapped insects. The canopy also acts as a protective cover for the glue board to keep objects, people, and pets from accidentally encountering the sticky surface.
"If you're not catching a lot of fleas, you probably don't have a bad infestation," notes Clark. "However, leave your flea trap on 24 hours a day as a preventive measure. Catching a new batch of fleas before they can reproduce is the most effective way to control flea problems."
To use outdoors, hold the bottle 12 to 18 inches from the surface and spray infested areas, making sure to lightly moisten the surface. For ants, apply the spray directly to ant trails and hills, as well as nests hidden under brickwork, concrete, and steps.
Each TERRO® Flea trap includes two glue board inserts, with additional refills sold separately. The traps are available for purchase online at TERRO Flea Trap and at leading retailers nationwide. A 3-pack of TERRO Flea Trap Refill Glue Boards can be purchased at TERRO® Flea Trap Refill Glue Boards – 3 Pack
About TERRO®
TERRO® is an industry leader in ant and pest control and has been a trusted brand since 1915. Based in Lancaster, PA, the company offers proven ant and pest control products including liquid ant baits, aerosol sprays, perimeter granules, glue traps and ant dust products. TERRO® products are widely distributed at all leading hardware, home center, mass merchant, food and drug, farm and fleet, and independent garden center retailers nationwide. For more information on TERRO® products, call 1-844-837-7644 or visit terro.com
Media Contact:
Carolyn Schinsky
314-308-1682
carolyn@ryan-pr.com