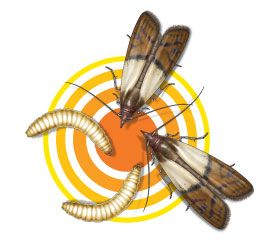 Moth Control
Moths are often present in areas where dry grain products such as cereal, bread, pasta and rice are stored. While you may see them fluttering around your kitchen,pantry, or closet another telltale sign of infestation is the presence of larvae. If you need to know how to get rid of moths in your home, TERRO® can help!
We Make Moth Control Easy
We offer moth glue traps that use non-toxic glue to capture these fluttering pests before they can make a meal of your meal-time favorites or clothing. Our pantry moth traps contain a powerful pheromone that attracts moths. They're lured into the trap where they become stuck and have no chance of escape. Place the moth traps wherever you see the swarming insects.
Order Your Moth Killer Traps Today
Fight back against a moth invasion with the help of easy-to-use pantry and clothes moth traps from TERRO®. Order yours today!
2 glue traps

12 glue traps

2 glue traps