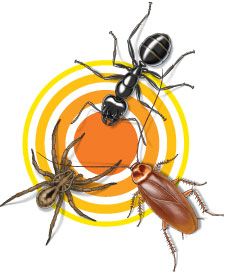 Multi-Insect Control
It can happen without warning. You're enjoying a quiet evening at home with your family, when you suddenly spot a bug nonchalantly making its way up a wall or across the floor, acting as if it owns the place. Let TERRO® show you how to get rid of bugs the fast and easy way. We offer a wide selection of multi-purpose insect control products that will put some fear into crawling pests before they can take over your home!
Effective Multi-Insect Control Products for the Most Notorious Household Pest
Our multiple insect killer solutions can help you get rid of the most common creepy critters including:
Spiders
Ants
Scorpions
Stink Bugs
Termites
Cockroaches
Bedbugs
We offer multi-crawling insect killers that can quickly halt an insect invasion inside your home, as well as products that can create a bug-proof barrier on the outside. You'll even find multi-purpose bug killers that enable you to spot-treat problem areas such as cracks and crevices that are allowing bugs to gain entry. Many of our products also work as multi-insect repellents that continue to deter bugs long after the initial application.
A Variety of Application Types
Our multi-purpose insect killers are available in numerous application types to meet your specific indoor or outdoor pest control needs. Options include:
Liquid Baits
Aerosol or Ready-to-Use Sprays
Granules or dusts
Glue Traps
Order Your Crawling Insect Control Solution at Terro.com
Don't let crawling insects live, eat and breed inside your home. Fight back against insect invaders with the help of multi-purpose insect killers - order yours today!