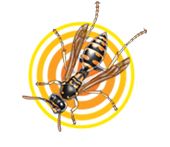 Wasp, Hornet & Yellow Jacket Control
If you've ever been stung by a wasp, hornet or yellow jacket, you felt the pain and you know it wasn't fun! Don't let these pain-inflicting flying pests pose a threat to your family, outdoor guests or even your pets. Use TERRO® yellow jacket, wasp and hornet control solutions to deliver a powerful sting of your own.
Keep a Safe Distance With Our Wasp and Hornet Spray
The best way to eliminate a wasp, hornet or yellow jacket problem is to wipe out their nests. TERRO® Wasp & Hornet Killer is an easy-to-use foaming aerosol spray that enables you to reach nests from a distance of up to 20 feet. You won't have to climb a tree or onto your roof to apply the wasp spray, so you'll be able to stay out of harm's way. Our hornet spray can also easily reach those out-of-the-way places where nests are often found.
"Foam Away" Your Pest Problem With Our Wasp Killer
Our wasp, hornet and yellow jacket killer leaves an entrapping foam on the nest that eliminates the pests inside and snags them as they're coming or going. TERRO® Wasp & Hornet Killer works quickly — you can safely remove the nest just 24 hours after application.
Order Your Hornet, Yellow Jacket and Wasp Control Solution Today
Don't let the threat of stinging insects prevent you from enjoying your backyard. Order our fast and effective yellow jacket/wasp/hornet spray today.
19 oz aerosol spray can

Six, 19 oz aerosol spray cans