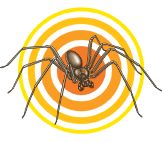 Spider Glue Traps
Looking for an effective spider trap that doesn't require the use of chemicals or poisons inside your home? TERRO® spider traps can provide the non-toxic insect control alternative that meets your needs! The concept is simple: the pests enter these sticky spider traps as they travel across your floors or countertops. Unable to free themselves, the spiders stay there until they die. It's the easy, hassle-free way to get rid of spiders and other crawling insects inside your home.
Our Traps for Spiders Provide Targeted Insect Control
You can place our spider sticky traps exactly where you need them. They're ideal for trapping spiders along baseboards, behind furniture, in corners or wherever you've noticed signs of spider activity. If a large area or room such as a basement or attic has become a spider haven, place multiple traps to enhance your insect-catching capabilities. When a trap becomes full, simply throw it away and replace it with another. Our traps also include a fold-over cover to keep kids and pets from coming in contact with the sticky glue.
The Best Spider Traps for Quick Removal
Does the thought of poisonous spiders patrolling your home keep you awake at night? Our spider glue traps provide a reliable defense against some of the scariest spider species. Our hobo, black widow and brown recluse spider traps can give you peace of mind knowing you and your family are protected against these infamous pests.
Order our ready-to-use spider traps today.
4 glue traps

24 glue traps