Common Millipede Species: North American Millipede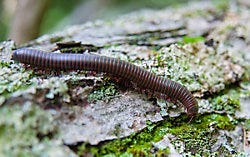 The North American millipede is a fairly common millipede, especially east of the Mississippi. With such a wide distribution, a variety of regional names have developed, including American giant millipede, cherry foot millipede, iron worm and worm millipede.
Appearance
Like most millipedes, the North American millipede is a slow-moving arthropod with little to gain from exposing itself. It will prefer to stay hidden in leaf litter or mulch.
Key physical characteristics of the North American millipede include:
Dark gray exoskeleton with red, purple, pink or yellow on the edges
Leg color matching their edging
Grows up to 4½ inches long
Small antennae on its head
Slow-moving and docile
Curls up when threatened
May release benzoquinones, which can cause mild chemical burns, as a defensive action
It is not advised to handle this millipede
Habitat
North American millipedes are usually found in leaf litter, old logs or mulch. They sometimes may be found inside a decomposing animal.
Geography
North American millipedes are found in the U.S. and Canada east of the Mississippi River as well as in Arkansas, Iowa, Kansas, Louisiana, Minnesota, Missouri, Nebraska, Oklahoma and Texas.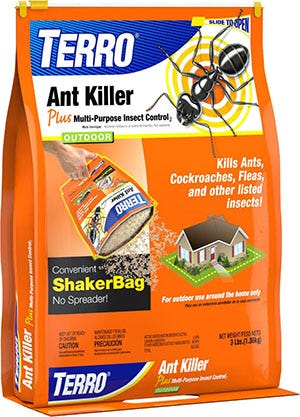 Diet
North American millipedes are detritivores, which means they feed on dead or decomposing matter. They can be found consuming the following items:
Moist wood
Sticks
Fallen leaves
Mulch
Decomposing animal matter
Small insects
Feces
Threat
In general, North American millipedes are not considered much of a threat to people, pets or property. The only concern is that if a person picks it up, or an animal tries to eat it, the millipede may release a defensive secretion that can cause minor skin irritation in the form of chemical burns.
Further, millipedes that make it into a home, garage or outbuilding may be considered a nuisance or unnerving to property owners, which may prompt efforts to eliminate them.
Control Options
North American millipedes trapped inside a climate-controlled building will not live long because they require a high-humidity environment. Still, they may persistently attempt to enter a building for one reason or another. Here are some ideas to control them:
Outside – Try TERRO® Ant Killer Plus, a granular insect control option, to keep them from entering a structure.
Inside or outside – Apply TERRO® Ant Dust to cracks and crevices where millipedes may hide. Alternatively, pour uniformly around the outside of a structure to create an entry barrier.
Non-toxic – Another easy way to stop invading millipedes (and other insects) is with the TERRO® Spider & Insect Traps. When a bug crawls over its sticky surface, it's instantly trapped.